It's long been known that the 'climate change' movement has a race problem, mostly being that few other than white, privileged middle and upper class folks care. And, if you check the video at the link, you'll see a sea of white faces in a city that is almost 40% black
Young, old and Santa march in downtown Durham for action on climate change

Hundreds of mostly young people took to the streets in Durham Friday, saying they can't wait for politicians to fight climate change.

"Take a second to look around you and see how many people are ready to stand up and fight for a Green New Deal," Georgette Sordellini said from a small platform in Durham Central Park.

Behind her, a banner read "Sunrise Movement." In front of her, more than 200 residents of Durham and Chapel Hill, were gathered to protest government's failure to respond to climate change.

While it was labeled a youth climate strike, the protesters ranged from elementary children all the way up. One sign in the back of the crowd read, "We can be our grandchildren's' heroes."
Why weren't they in school?
Speakers gave remarks about being Native Americans and respecting the land, racial equity in the climate-change conversation and investing in regenerative farming. Elijah King from Riverside High School in Durham, evoked a quote from former Ohio state Sen. Nina Turner, "Only all that we love is on the line."

While each speaker brought a different perspective to the protest, there was a main focus of the event: The Green New Deal.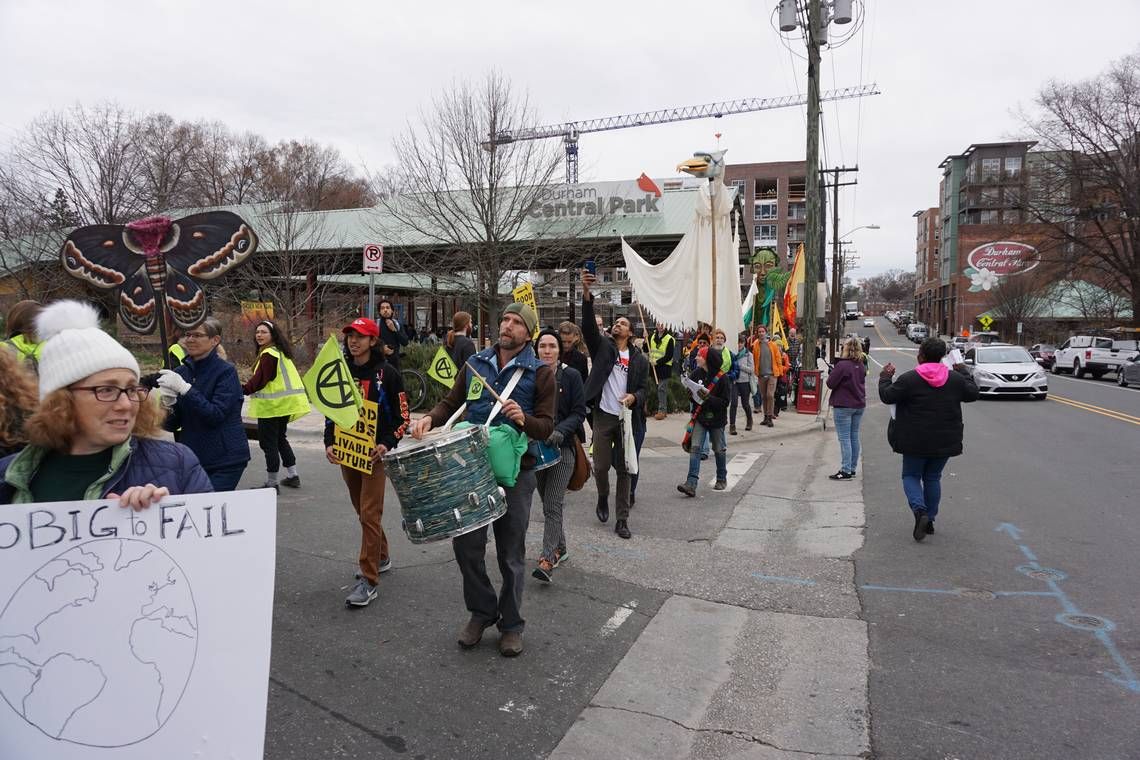 Yeah, the Extinction Rebellion nutters where present, and pretty darned white.
They also plan on creating citizen councils through local government, which Pentecost said would remove lobbying money and campaigning from the process. The group plans on using "non-violent civil disobedience," including sit-ins and shutting down roads to get its message across.
So, lots of government is the goal, especially to stop the Free Speech protections, under the US and NC Constitutions, of those who oppose them.
As the group marched through downtown, people banged drums and played guitars. A man in a Santa Claus suit chanted with the crowd, "No more coal! No more oil! Keep our carbon in the soil!" while holding a sign that read "Santa says coal is naughty."
Right, right, so, all the kiddies are willing to forgo all their Christmas presents and such, right?

If you liked my post, feel free to subscribe to my rss feeds.