I'd wonder if Warmists are trolling Skeptics with this kind of insanity, but, no, they really do believe this
Major snowstorms in B.C. prompt climate-change worries

Warm weather and rain linked to the Pineapple Express weather system is forcing Mount Washington Alpine Resort on Vancouver Island to shut down its winter operations as of Monday, a rare situation that comes as industry operators fear the impact of climate change.

While too little snow put the brakes on ski season in one region of the province, Kitimat Village – a First Nations settlement near the town of Kitimat in northern British Columbia – was reeling from a major snowstorm that compelled Haisla First Nation to order the evacuation of the community's 800 residents on Sunday. Kitimat and Terrace have received nearly two metres of snow this week from that same Pineapple Express system, which knocked out power for days and required at least one person to be airlifted to hospital.
The so-called Pineapple Express is something that has been going on for a long time, and has nothing to do with Hotcoldwetdry, much like El Nino's, mentioned later in the article.
He added he thinks climate change is a factor in the industry's woes, though the resort's business director, Mr. Sharpe, said things are not that clear cut. The resort, he points out, had its deepest snowfall on record two years ago.

"It's all over the map," he said. "For us, it doesn't appear that there's an ongoing trend. It just so happened that we had a warm spell that wiped out all the snow that we did have."
So, maybe yes, maybe no?
The Canada West Ski Areas Association, representing 135 ski areas and 153 industry suppliers, has a sharply different view, with plans at its annual convention in April to have five presentations on climate change and the environment. Part of the association's posted climate-change policy includes diversifying into summer businesses such as ziplines, gondola rides and mountain biking.

"Climate change and adapting to climate change is a big issue for the industry," David Lynn, association president and chief executive officer, said in an interview on Sunday.
Interesting: an industry that relies on people taking fossil fueled trips, along with vast amounts of energy to run the business, has an issue with "climate change". So they want to diversity and make sure people use more fossil fuels and industry uses more energy during other times of the year.
Anyway, despite the hysterical headline, there really is no attempt to specifically blame "Climate Change" for big snow storms, beyond hinting. But, good news, USA Today gives it a shot with a bit of quibbling
Buried in Boston? Blame it on climate change — maybe

What's going on? Although no individual storm can be directly linked to climate change, Boston's snowy winter could point to weather patterns affected by global warming.

"The environment in which all storms form is now different than it was just 30 or 40 years ago because of global warming," said Kevin Trenberth, a senior scientist at the National Center for Atmospheric Research in Boulder, Colo.

Higher temperatures warm the oceans and allow the atmosphere to hold a greater amount of water vapor, said Brad Johnson, a meteorologist with the University of Georgia. "Both of these factors, among others, contribute to stronger storms in general," he said.

Johnson also said scientists are not able to attribute just a single storm or series of storms directly to climate change.
So "zoMyGod we're doomed!!!!" with a splash of ass covering. The Washington Post gives it a shot, too. Climate Crocks digs deep into the idiocy.
Just to wrap up, here's insanity from the Detroit Free Press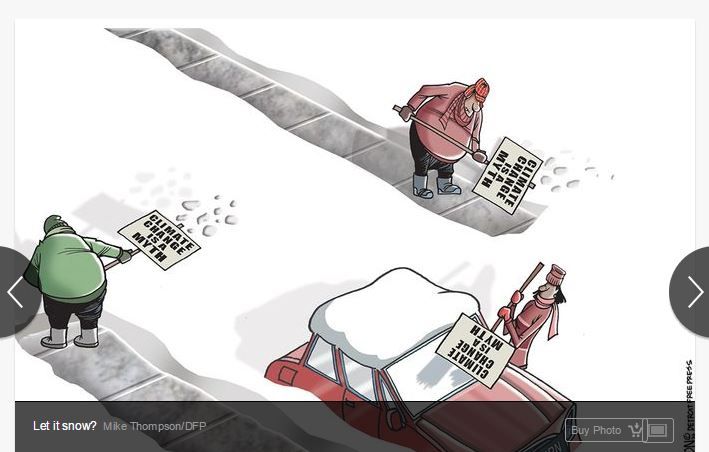 If you liked my post, feel free to subscribe to my rss feeds.