We already know that the thousands who've descended on Davos, partly to discuss "climate change", took fossil fueled vehicles and flights (up to 1700 private jets, among them), and are massive climahypocrites. Nothing unusual there. Nor should we be surprised by the photograph that accompanies the UK Guardian story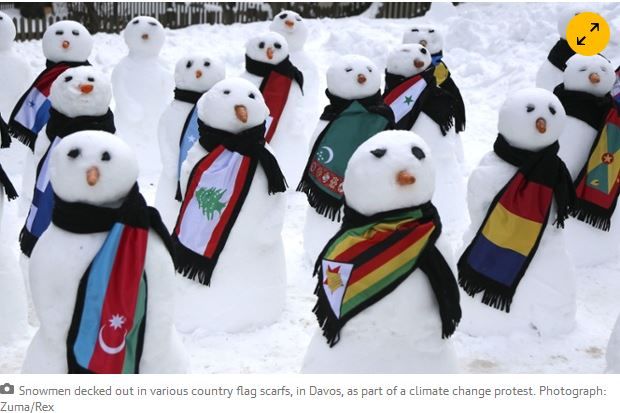 The first day of the World Economic Forum in Davos was dominated by calls for 2015 to be a year of action on climate change. But while some in the business community worry about sustainability, there is plenty of evidence that the vast bulk of business executives give it no consideration at all.
Apparently, a 0.02C increase in 2014 makes it so hot that we can make snowmen.
Former US vice-president Al Gore teamed up with pop star Pharrell Williams to launch a second round of Live Earth concerts to raise awareness before crucial UN talks in November.

He accused fossil fuel companies in particular of using the atmosphere as "an open sewer" for carbon emissions, which are in danger of driving global warming to ruinous levels.
How'd the two travel to Davos?

If you liked my post, feel free to subscribe to my rss feeds.