Fortunately, The Lonely Conservative didn't forget
Did you know that today is Global Wind Day? It's a day for environmental activists to push for more funding for wind farms and indoctrinate young children. It appears that the corrupt Sierra Club (a group that took funding from natural gas companies before knifing those companies in the back) is one of Global Wind Day's biggest promoters

I'll bet you didn't know that June 15th is Global Wind Day. Wind is part of the Earth's atmosphere and, depending on whether it is blowing gently or strongly, there isn't a darn thing anyone can do about it. Except for measuring its velocity and direction, wind like clouds remains largely a mystery to meteorologists.

The Renewable Energy Industrial Index (RENIXX) tracks the stock value of wind and solar companies. In May—though you did not read about it in the mainstream media—it announced that thirty of the largest renewable energy companies were trading at "an all- time low" and the index "had lost over 90% of its value since 2008."

So, naturally, the Sierra Club was eager to tell me about Global Wind Day and that my home state of New Jersey had the "potential to replace all the dirty coal and gas plants in the state." The distance between "potential" and reality is roughly the distance between New Jersey and the planet Neptune.
Well, it was a tad windy in Raleigh yesterday. Make sure to read the whole thing at TLC.
Just to be clear, I'm not against wind power. I am against wasting untold amounts of taxpayer money to create these huge windfarms that are loud, disruptive, only provide power during certain windspeeds, and are blights on the landscape. Seeing them on the occasions I visit the parents in NJ and we go to Atlantic City is not so bad. When you see this, though….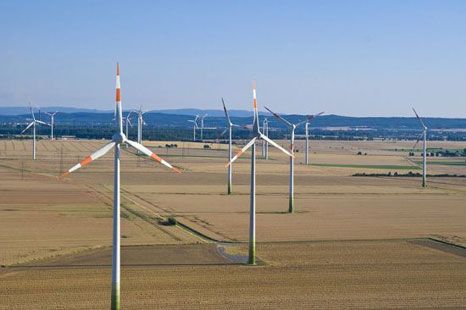 …I have a problem. Serendipitously, I was watching Aerial America last night, and the episode was on Oregon (you can watch the full episode on-line), and it contained lots of video of the wind farms. To me, that just spoils the landscape. I did like the shots of Portland with small wind turbines on the roofs, though.

If you liked my post, feel free to subscribe to my rss feeds.