Ice Age Now finds an interesting graphic from OregonLive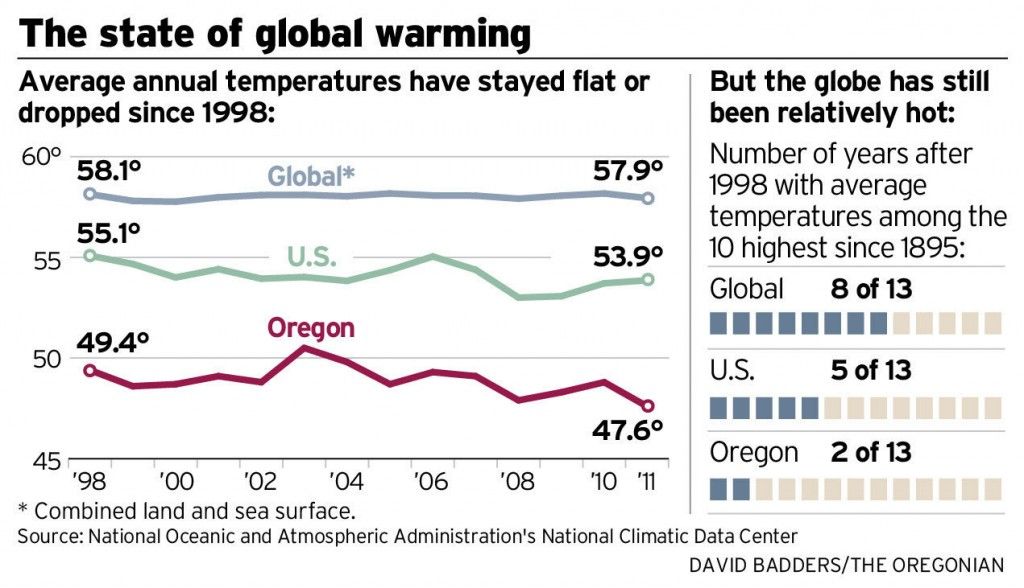 As IAN points out
Of course they had to temper this information by saying that "the globe has still been relatively hot." Maybe they hope their words will help them ignore the graph.
The graph accompanied a story published back on April 9th of 2012. From that story
Skeptics tend to focus on temperatures since 1998, a record hot year globally. The global average annual temperature has leveled since then. In the U.S., it has dropped at a rate of 0.85 degrees Fahrenheit a decade, according to the National Climatic Data Center. In Oregon, it has dropped 0.79 degrees a decade, thanks in part to a string of La Niñas, sparked by a relatively cold pool of water in the subtropical Pacific Ocean.

That's a short time, but also a sharp contrast to warming predictions. The Intergovernmental Panel on Climate Change predicts warming of 2 degrees to 11 degrees in the 21st century, depending in part on how much fossil fuel the world burns. In Oregon, predictions range from 3 degrees to 10 degrees through 2100.

Non-skeptics, including the bulk of climate researchers, note the overall trend is still up since 1895, when standardized U.S. records began. Oregon has warmed about 1 degree since then, according to NCDC data, and the globe has warmed about 1.5 degrees.
OK, temps have gone up a tiny bit since the a few decades after the end of the Little Ice Age. Woop-de-doo. Us "skeptics" also point out that it was actually much hotter during the 1930's, then cooled down till the end of the 1970's, despite sharply increasing CO2.
Then we get
Going forward, an upward trending solar cycle and a likely end to an unusual string of La Niñas should mean increased warming, Mote says.

NASA researchers predict a likely new record global temperature in 2013 or 2014. "The slowdown of warming is likely to prove illusory," they said.

"If I had to bet on 10 years from now," Mote says, "I would bet 3-to-1 we'll see some kind of increase."
Uh huh. Because their computer models, which have failed spectacularly, are better! Well, they're better at hiding the decline, massaging the data, and discarding inconvenient data. Anthony Watts has some very interesting information on just how Warmists muck with the raw data.

If you liked my post, feel free to subscribe to my rss feeds.