And climate realists are the alarmists? Witness the hysteria in a story about Nauru, a tiny nation that is apparently tipping over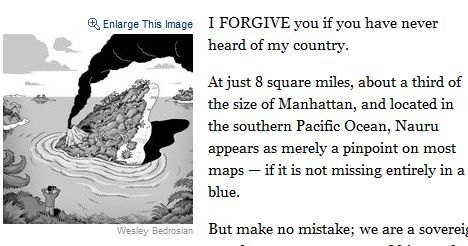 Of course, you can expect lots of climate change is ruining our nation *cough*give is money*cough*, then we get to
First, the Security Council should join the General Assembly in recognizing climate change as a threat to international peace and security. It is a threat as great as nuclear proliferation or global terrorism.
Because only wars are fought when it is wet/dry cold/warm. (via Tom Nelson)

If you liked my post, feel free to subscribe to my rss feeds.