Have you had the occasion to visit Joe Romm's Climate Progress blog lately? Would it surprise you that it is now a formal part of the far left Think Progress, which is itself a part of the far left George Soros funded Center for American Progress? But, don't worry, it's really all about "science," having nothing to do with far left progressive politics
No More Jersey Shore: Leaving Our Children a World Without Beaches — Thanks to Warming-Driven Sea Level Rise

Loss of beaches worldwide is certainly not the worst of the impacts humans will face from unrestricted greenhouse gas emissions (see "JPL bombshell: Polar ice sheet mass loss is speeding up, on pace for 1 foot sea level rise by 2050").  But it will be a poignant and costly loss nonetheless for future generations.  And don't count on creating artificial beaches — they will be awfully hard to sustain when sea levels are rising 6 to 12 inches a decade!  CAP's Kiley Kroh has more.
Because those beaches have always been exactly the same. Personally, while growing up, I never witnessed the municipalities and Army Corps of Engineers dredge the Manasquan Inlet every year as the ocean currents pushed the sand northwards, wrapping it around the southern part of the inlet into the inlet. Know why there are so many jetties made of rocks and wood on the Jersey Shore? Erosion. Trying to trap the sand. But, it just can't be something that simple, it has to be Globull Warming.
When Snooki of MTV's "Jersey Shore" infamously stumbled down the boardwalk and confused onlookers by asking "where's the beach?", it inadvertently might have been the most insightful thing the reality star has ever said.
When you use Snooki to attempt to make your point, your argument is null, does not compute, and the rest is completely invalid, so, let's end with this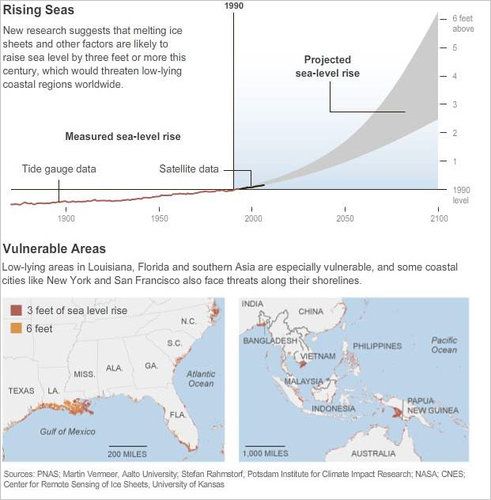 Two things to notice: first, the graphic fails to mention the sea rise going back the last 20,000 years. Second, the graphic is actually being hotlinked from the NY Times. Right click on the image at CP, choose "view image info." (PS: my copy is hosted on Photobucket.)

If you liked my post, feel free to subscribe to my rss feeds.