Is anyone really surprised?
More than 600 people have been arrested at a demonstration against climate change in Copenhagen today.

What started as a peaceful demonstration calling for action on climate change, descended into rioting as hundreds of masked youths threw bricks and smashed windows in the Danish capital.

Police in riot gear arrested between 600 and 700 people, who were cuffed and forced to the ground, before being taken away in vans.
Nope, not surprised.
The scenes were in stark contrast to the rest of the colourful demonstration, which had progressed peacefully.
Except for the violence.
A police officer received minor injuries when he was hit by a rock thrown from the group and one protester was injured by fireworks, police said.
Downtown Copenhagen was in virtual lockdown Saturday with thousands of police deployed or on standby and helicopters hovering overhead.

The authorities had already deported two Britons for vandalism and spitting on a police officer and a Frenchman for breaching firearms laws, police commissioner Lars Christian Borg told AFP.
Sounds pretty much like just about every left side demonstration. Violence is bound to break out.
Police put the demonstration at about 30,000, some left leaning media are putting it at anywhere from 100K-300K. By tomorrow, the media will probably be reporting half a million.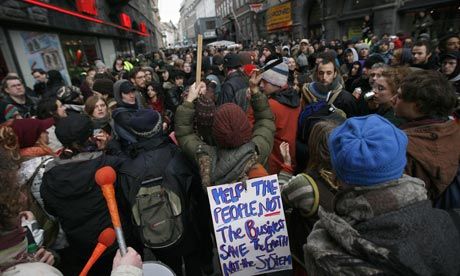 Can you imagine the smell with all these far left nutters around wearing their weirdo apparel and rarely showering?

If you liked my post, feel free to subscribe to my rss feeds.