'Memba those "Don't Blame Me, I Voted McCain/Palin" bumper stickers I made up for CafePress back on November 5th? Well, thank you to all those folks who bought them. And are still buying them. Mostly in early November, though. I just got a check for $881 from CafePress for the sales! SuuuuuuWeet!
Available here.
More: and now a new product, via an idea by Gay Patriot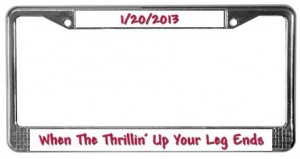 Click for larger size. Available here.

If you liked my post, feel free to subscribe to my rss feeds.