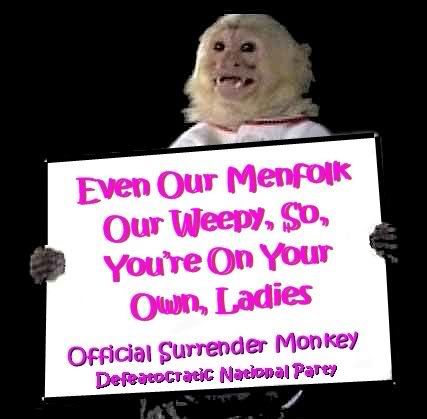 Hey, all you ladies the I know out there in the right-o-sphere and Real Life™, did you know you are frail members of the species who can barely get through the day? Basically weeping willows. Hot house flowers. So says Michelle Obama (h/t Hot Air), and the Surrender Monkey is thrilled!
I have to say that my life now is not really that much different from many of yours. I wake up every morning wondering how on earth I am going to pull off that next minor miracle to get through the day. I know that everybody in this room is going through this. That is the dilemma women face today. Every woman that I know, regardless of race, education, income, background, political affiliation, is struggling to keep her head above water.
She is really becoming the gift that just keeps giving, isn't she? Of course, the good news, all you delicate women who happen to be owners of big guns, Obamamama informs us that you will never be allowed to go back to your lives as normal if MesiahMan is elected.
Barack Obama will require you to work. He is going to demand that you shed your cynicism. That you put down your divisions. That you come out of your isolation, that you move out of your comfort zones. That you push yourselves to be better. And that you engage. Barack will never allow you to go back to your lives as usual, uninvolved, uninformed.
Anyone else a little concerned that Obama's campaign has become something other then for the presidency of the United State? We already know Michelle has never been proud of the US till her husband became a front runner for the position of, well, I guess in Michelle Obama's mind, Savior of the World. I wonder what an Obamamania Girl thinks
I'm nervous because nobody's quite sure what Obama stands for, even his supporters. ("I can't wait to see," said actress/activist Susan Sarandon, declaring full support nonetheless).

I'm nervous because even his biggest fans can't name Obama's accomplishments, including Texas state Sen. Kirk Watson, an Obama-man who humiliated himself when MSNBC's Chris Matthews asked him about five times to name something, anything, Obama's done. Watson hemmed. Watson hawed. Watson gave up.

I'm nervous because John McCain says Obama's is "an eloquent but empty call for change" and in the wee, wee hours, a nagging voice whispers, suppose McCain's right, too? Then what?
Then what, indeed?
Others: The Strata-Sphere, Patterico's Pontifications, Fausta's Blog, a poem at Protein Wisdom, Stephen Bainbridge
Trackposted to Outside the Beltway, The Virtuous Republic, Rosemary's Thoughts, Right Truth, Leaning Straight Up, Cao's Blog, Big Dog's Weblog, Adeline and Hazel, Diary of the Mad Pigeon, Woman Honor Thyself, The Pink Flamingo, Wolf Pangloss, , The Yankee Sailor, and Gone Hollywood, thanks to Linkfest Haven Deluxe.

If you liked my post, feel free to subscribe to my rss feeds.