Happy Friday to all! It's that time of the week again! Do you have an interesting post you want to share with everyone? The official Surrender Monkey of the Democratic Party says to do what the Lefties don't, since they all have the same talking points: link it!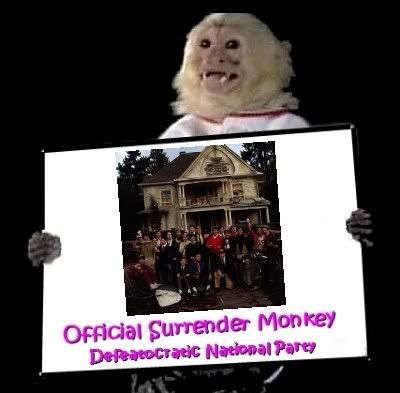 Yes, the boys and girls of Delta House have returned, so says the Opinion Journal
In the movie "Animal House," the fraternity brother known as Otter reacts to the Delta House's closure with the classic line, "I think that this situation absolutely requires a really futile and stupid gesture be done on somebody's part." To which Bluto, played by John Belushi, replies, "We're just the guys to do it." The movie ends by noting that Bluto becomes a Senator, so perhaps this explains the meltdown among Democrats on Capitol Hill.

As they careen toward the end of their first year in charge, Congressional leaders seem capable of nothing but futile gestures. Yesterday, Senate Majority Leader Harry Reid failed once again to get enough votes for an energy bill, having refused to remove a $21.8 billion tax increase on energy that President Bush has promised to veto in any case. Mr. Reid was vowing to try again as we went to press.

Meanwhile, in Nancy Pelosi's House of self-inflicted pain, the Blutarsky strategy played out yesterday in one more hopeless attempt to pass a tax increase to "pay for" Alternative Minimum Tax relief. The Senate has already voted 88-5 against any such tax hike, so this House bill is dead before arrival. But Ms. Pelosi's troops are just the guys to do it anyway.
And the examples keep going on and on. Futile gestures out the ying yang, with no end in sight. President Bush vetoed the second attempt at SCHIP expansion Wednesday, and Democrats already are ready to try a third time.
They have approved a ban on waterboarding, despite it not having been used but three times not that long after 9/11. It has already been outlawed by the DoD, and pretty much given up on by the CIA, but, Dems feel they need to make a useless gesture to their nutroots base, while gutting methods of gaining intel that might still work.
It has gotten so bad that Democrats are engaging in finger pointing exercises amongst themselves, casting blame for who is at fault for being essentially a do nothing Congress. Let the food fights begin!
But, good news! Nancy Pelosi has essentially given up on 2008. And, interestingly, but usual, she blames President Bush for her and Harry Reid's failures. Good thing they had a mandate, eh?

Send a trackback to this post, but don't forget to link it. Otherwise, no toga for you!
Cross posted at Blue Star Chronicles.

If you liked my post, feel free to subscribe to my rss feeds.