Happy Friday to all! It's that time of the week again! Do you have an interesting post you want to share with everyone? The official Surrender Monkey of the Democratic Party says to do what the Lefties don't, since they all have the same talking points: link it!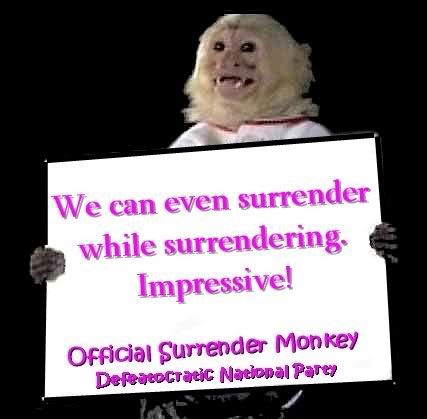 It may take time, but, after all their rhetoric and all the votes, the Democrats appear to have finally surrendered to W
In an exchange on the House floor with Republican Whip Roy Blunt (Mo.) this afternoon, House Majority Leader Steny Hoyer (D-Md.) conceded that a troop funding measure would advance in Congress without language mandating a withdrawal timeline from Iraq.
Bwahahahahaha!
Caught between anti-war activists and an unyielding White House, congressional Democrats are struggling for a way to fund U.S. troops in Iraq without appearing to support President Bush's policies.

No issue divides the party more deeply, and lawmakers say it poses one of the toughest decisions that top House and Senate Democrats will make since they took control of Congress this year. At least four ideas are being floated, but none has achieved a consensus as the holiday break nears.

"The president has put us in a very difficult position," said Rep. Elijah Cummings, a Maryland Democrat who opposes the Iraq war.
No, Elijah, Democrats have put themselves in a difficult position with their constant harping, Wednesday morning quarterbacking (think about it!), dupliciousness, and surrender talk over a war they voted "yea" for! Instead of braying that all is lost, all is lost, let's run the f*ck away, they could have used gone the other way, and used what really has been a poorly run war as a way of calling for better measures in a unified manner. They could have looked strong will still offering positive advice on how to win the way sooner. But, no, they listened to their BDS and their BDS infected base, and made surrender a tenent of their political doctrine.
However, they will try a different strategy for defeat and retreat
Facing increasing evidence of military progress in Iraq, some Democratic congressional leaders are eyeing a shift in legislative strategy that would abandon a link between $50 billion in additional war funding sought by President Bush to a timetable for withdrawal of U.S. troops. Instead, they would tie the measure to political advances by the Iraqi government.
As Bob Owens points out
Democrats are now attempting their 64th attempt to defund the Iraq war…by using the progress of the Iraqi parliament to gauge the progress of the country.

They should be thankful the same standards aren't applied to them.
Huzzah.

Send a trackback to this post, but don't forget to link it.

If you liked my post, feel free to subscribe to my rss feeds.