Continuing the tradition of pinups on holidays
 
Turkey!!!!!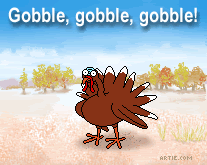 Here's a cute game, Turkey Fling (SFW). See if you can beat 117K distance 🙂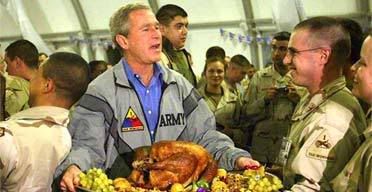 I wonder if W will pull another surprise visit this Thanksgiving? Spending the day with the family at Camp David.
I just cannot resist posting this moonbattery from the Democratic Underground: Happy Thanksgiving. Republicans Suck. (by Hissyfit)
Third World County had linked to the Tuesday linkfest post, deleted it by accident. Check out David's post.
More: Did a temperature check of the left-o-sphere, and boy howdy! are some of them seething. Even in a simple "Happy Thanksgiving" post, comments are wacked. I think some folks need a puppy.

Do you have an interesting post? Well, go ahead and leave a trackback, with a reciprical link back to me. Otherwise, no tryptophan for you!

If you liked my post, feel free to subscribe to my rss feeds.