I hope France is ready for burned McDonalds'
A French appeals court sentenced a former imam Monday to five years in prison for involvement in a plot to stage attacks in France to support fighters in Chechnya.

The Paris Court of Appeals stiffened Chelalli Benchellali's original 18-month suspended sentence, imposing instead a five-year prison term, and ordered him to return from Algeria to serve his time in France.

Benchellali, his wife and two sons were among 25 people convicted in June 2006 in the plot, apparently aimed at calling greater global attention to the cause of Muslim Chechen rebels fighting the Russian government.
Because we all know that all the Muslim extremists, who often are also illegal aliens, in France are such peaceful folks. Couldn't have been them rioting in 2005, right?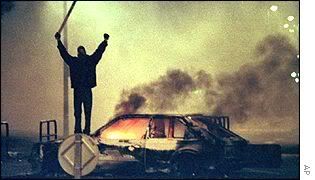 If you liked my post, feel free to subscribe to my rss feeds.