In a shameless example of traffic whoring, I bring you Paris Hilton screwing. You know you are just itching to press the "read more" link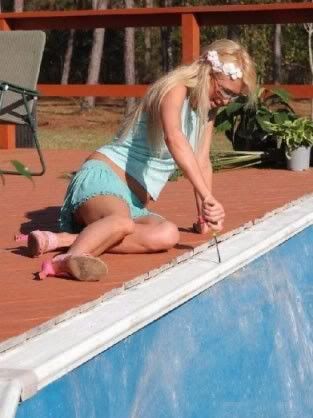 I'm sure all women are out there with tools in pink heels and mini skirts, eh? I wonder if this is what Paris sober looks like.
However, it seems that Little Miss Way Past Her 15 Minutes has, yup, another sex video. For all you who care, you can catch the opening nudity-but-no-sex scene here. And, yes, it is NSFW.
Days later update: John Hawkins discusses the Paris Hilton website, where all the nudie stuff resides
I went to the website and watched a short video and you would not believe it. They've got diary entries, numerous videos of Paris nude and having sex, making out with other women, her doing drugs, including cocaine; it goes on and on. The website claims to have video/pics of a kilo of cocaine, that she went to AA, that they actually have videos of her using sex toys on herself.

First of all, who in her right mind would video tape all of this stuff? And then, who would take all these potentially humiliating personal items, put them in storage somewhere, and just totally forget about them to the point of not even paying the bills?

If you liked my post, feel free to subscribe to my rss feeds.