Happy Friday to all! It's that time of the week again! Do you have an interesting post you want to share with everyone? The official Surrender Monkey of the Democratic Party says to do what the Lefties don't, since they all have the same talking points: link it!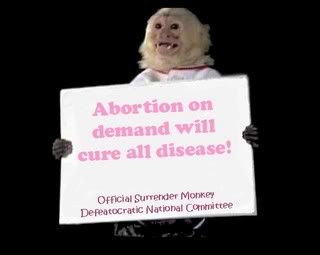 Yes, that's right, as Nance Pelosi is holding the hope out
Promising "hope to families with devastating diseases," the new House Democratic leadership is reintroducing legislation to expand federal funding for experimentation on human embryos, placing itself on a potential collision course with President Bush, who vetoed an earlier attempt.

A new opinion poll released Thursday indicated that the number of Americans in favor of embryonic stem cell research is rising, but around the world it remains one of the most contentious ethical issues of our times.
As I have said many times before, the Democratic backing of federal funding for embryonic stem cell research is simply a front to continue to legitimize abortion on demand. ESC research is not banned; it just receives no federal funding. Private industry can do it all they want. But, that does not help with the Dems #1 issue, the destruction of unborn life.
While the potential with ESC's is tremendous, supposedly, adult and placental stem cells have shown vastly more promise in actual research and development, without the massive and prevelant tumors caused by ESC "cures."

Send a trackback to this post, but don't forget to link it.

If you liked my post, feel free to subscribe to my rss feeds.