Saddam dead, hung right before 10pm Eastern time. I'm sure everyone knows.
So, what about Liberal World?
What else is there to say? Liberal World. They're more concerned with BDS and what the USA has done wrong (in their minds) then the hundreds of thousands, minimum, that have died, been murdered, tortured, raped, and mutilated under Saddam's regime. Typical.
And, yes, many people are rejoicing. Saddam was a very bad person, and has gotten what he deserved.
In all fairness, there were a few, and I mean a few, comments at the DU that were plain happy that Saddam was dead, made without interjecting BDS. But, they are the exception, not the rule.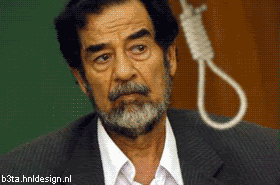 Graphic shamelessly stolen from Blue Star Chronicles.
Michelle M, Captain Ed, The Radio Equalizer, and Hot Air, along with so many others, have more.

If you liked my post, feel free to subscribe to my rss feeds.