Let's start with the Christmas (and Christian) hating ACLU:
County workers raised a festive tree at the Kalana O Maui Building Wednesday with just five days to go before Christmas, after receiving a letter from the American Civil Liberties Union warning that the existing holiday display of a Hanukkah menorah was unconstitutional. The letter threatened a federal lawsuit if the display was not corrected.

In its letter to the county sent Tuesday, the ACLU cited case law that found government displays of religious symbols on their own could be perceived as an unconstitutional endorsement of religion. But government displays that included secular holiday symbols, like Christmas trees, alongside religious symbols, did not endorse religion.

"The goal of the ACLU is not to ruin the celebration of Hanukkah or any other religious holiday, but rather to ensure that the government does not endorse the views of one religion to the exclusion of others," wrote ACLU Legal Director Lois Perrin.
Remember that last part.
CNN has a list of of naughty people
David Allen Rodgers, 42, was arrested December 3 on a charge of driving while intoxicated — at the wheel of a float during the annual Christmas parade in Anderson, South Carolina. According to witnesses, Rodgers sped down Main Street in the Steppin' Out Dance Studio float with 19 people aboard, ran a red light and led police on a 3-mile chase.

In Chicago, Illinois, 32 plastic baby Jesus dolls were stolen from Nativity scenes set up in people's front yards. The kidnappers then lined up all the dolls along the fence outside a Chicago woman's home; she rounded them up and turned them over to her parish priest.

Similar creche crimes occurred in 35 cities from Fayetteville, North Carolina, to Mission Viejo, California, according to The Catholic League, which tracks Nativity vandalism.
35 nativity scene crimes this year. Na, there's no war on Christmas. Actually, it would be better to say there is a War on Christians. It's just that it really shows itself during the Christmas season.
Is nativity scene theft and vandalism a hate crime?
A prominent Catholic leader says a rolling wave of vandalism to nativity scenes across the country this year isn't really vandalism: it's a series of hate crimes.

"The vandals in Norwalk, Connecticut, gave us an idea," said Catholic League President William Donohue. "Not only did they trash a nativity scene, they wrote profanity and drew satanic symbols on one of the figures. This isn't the act of some crazy drunks – it is the act of hate-filled persons."

There have been dozens, perhaps hundreds, of incidents of damage to nativity displays this Christmas season, officials have confirmed. "Some of these attacks were clearly motivated by malice," Donohoe continue. "The baby Jesus figure stolen in Plaistow, N.H., was later returned, having been defiled by a pair of devil horns. In Sioux Falls, S.D., someone crushed the face of the statue of Jesus.
Unfortunately, the liberal legal system only considers it a hate crime when whites or Christians are the perpatrators.
Finally, California man sets himself, American Flag, Christmas tree on fire to protest religious names
BAKERSFIELD, Calif. — A man used flammable liquid to light himself on fire, apparently to protest a San Joaquin Valley school district's decision to change the names of winter and spring breaks to Christmas and Easter vacation.
It's his Right to be a complete barking moonbat.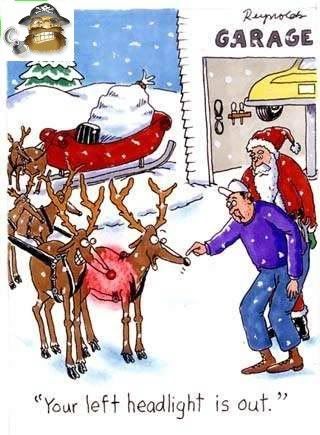 Naughty or nice?

If you liked my post, feel free to subscribe to my rss feeds.