So says the headline. Is this Yahoo News playing games, or was this the headline that the AP released?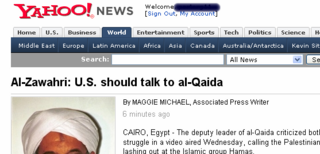 Nowhere in the story could I find any indication that Al-Z stated that the U.S. should talk to Al Qaeda, and it looks like most who picked up the AP story aren't even going there.
However, you just know that someone in the media will ask President Bush or Tony Snow about this, they will say that talking with AL Qaeda is a terrible idea, and then all the Lefties will incorporate talking to AQ into their talking points.
Stop the ACLU has more, including the video.

If you liked my post, feel free to subscribe to my rss feeds.