Happy Friday to all! It's that time of the week again! Do you have an interesting post you want to share with everyone? The official Surrender Monkey of the Democratic Party says to do what the Lefties don't, since they all have the same talking points: link it!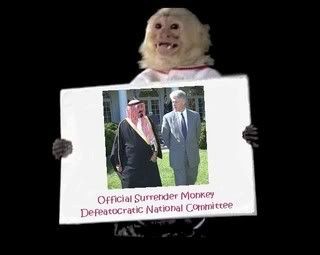 Looks like the Commander in Jizz has decided to officially join the Surrender Monkeys
Former President Bill Clinton on Thursday endorsed the idea of talks with Iran and Syria to help ease the bloodletting in Iraq, saying it would also be in Tehran's interests.

"I agree that we should reach out to the Iranians and the Syrians and try to get a regional solution. Right now the Iranians don't want to do anything, probably because their policy seems to be, whatever causes America heartburn is good for us," Clinton told the Dutch TV program Nova.
Hmm, Bill just admited that Iran has the same attitude as the Democratic Party.
Seriously, talk with terrorist nations that despise the United States? James Baker stated the other day that they meant that as a way of showing Iran and Syria up in the world stage as, at a minimum, bad neighbors of Iraq. People, including the Defeatocrats, really should read and hear what Baker had to say. But, Slick, like the other Defeatocrats, thinks it is a wonderful idea to engage anti-American terrorist nations in dialogue to reach a "regional solution." That should work about as well as when mega SM James Carter canceled Iranian visas.
Funny, cause there was a time when Clinton was worried about Iran, slapping sanctions over missiles technology.
I will give Slick this: at least he doesn't believe that we should cut and run, as the end of the article points out. That must kill the lefties!

Send a trackback to this post, but don't forget to link it.

If you liked my post, feel free to subscribe to my rss feeds.