Unfortunately, I have not been able to find an article to support what I overheard on WPTF-680 Raleigh during the news break at this time, however, they reported that there is good reason for the baby formula tasting at airport screening areas. Not to annoy people. Not for vicarious thrills. And not to end up on America's Funniest Home Videos (or some porn site.)
It is because part of the plot to blow up the planes flying from Britain to the U.S. was to include a man, his wife, and their baby, with the liquid bomb material disguised as baby formula. From what I heard, Waheed Arafat Khan and his wife were arrested, and their baby was held, as well.
If this is true, it is just more evidence that religion of peace is anything but. These people have no morals. Remember these views of the religion of peace, or, should I say, pieces?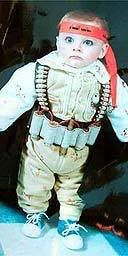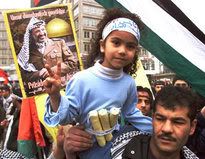 BTW, accessing BBC News is rather disappointing. It was their country that would have been attacked, yet nary a mention on their front page.

If you liked my post, feel free to subscribe to my rss feeds.