Morning, Y'all, Jebediah here. I'm just wondering who will be the first to surrender in the fight between the government, who sponsered the law that would allow business' to fire people who suck, or the youths who are in full riot mode? Not capitulate, not change position, not cave to demands, not "work together to create a better plan," but surrender, because, we all know that the French are really good at that
There are signs of deepening divisions among ministers on the way forward as PM Dominique de Villepin holds firm, says the BBC's Paris correspondent.

Police used tear gas and water cannons to quell the crowds and arrested 500.

The largely peaceful protests were attended by more than a million people across France, police said.
First, it looks like Villepin is planning out his terms of surrender, allowing the workers of France to continue with their Socialist, non-productive work habits. Second, how do you follow a line about gas and water cannons, plus 500 arrested, with a line about protests being largely peaceful? You can see a video at the BBC link above about the violence. You can see lots of photo's of the peaceful protesters.
This is my favorite photo: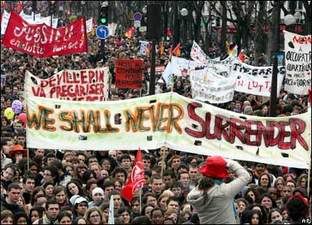 And, no, I reckon I did not photoshop it. That is straight from the BBC. Very interesting that it is written in English, don't ya think? Even more interesting is the lie of it. Cause, don't forget about the Complete Military History of the French. And let's not forget about French Jokes:
"As far as I'm concerned, war always means failure." — Jacques Chirac, President of France. "As far as France is concerned, you're right." — Rush Limbaugh  

Isn't it strange that the great Paris Arch-De-Triumph was only used four times, Twice by Germany and twice by the US Army

Q : What does a French military alliance and a French romance have in common? A : Both are brief, sordid, and completely meaningless.
Linked to Blue Star Chronicles, Don Surber, Stuck On Stupid, TMH's Bacon Bits, and Cousin Red.

If you liked my post, feel free to subscribe to my rss feeds.