Good news for Warmists: it's not dead last
Environment, climate change a mid-pack concern for older voters, per AARP poll

The environment and climate change came in at No. 6 among older voters' top priorities for Governor.

The effects of climate change are such that some politicians will support bills that deal with climate resiliency without addressing climate change directly in their rhetoric. Meanwhile, Florida's very name is a nod to the unique natural life that calls this state home.

However, it can be challenging for environmental issues to break through in favorable years, and this is not one — pocketbook issues that typically dominate voter concerns have some extra oomph.

A new poll from AARP shows the environment and climate change in the middle to back of the pack on issues important to people aged 50 years and older.

A bipartisan polling firm team of Fabrizio Ward and Impact Research collaborated on the poll that involved more than 1,600 Floridians the week of Aug. 24-31.

The poll, which had a 4.4% margin of error, included 500 likely voters, with an emphasis on older likely voters that included 550 likely voters 50 and older, with 262 Hispanic and 314 Black voters.
There's two relevant graphics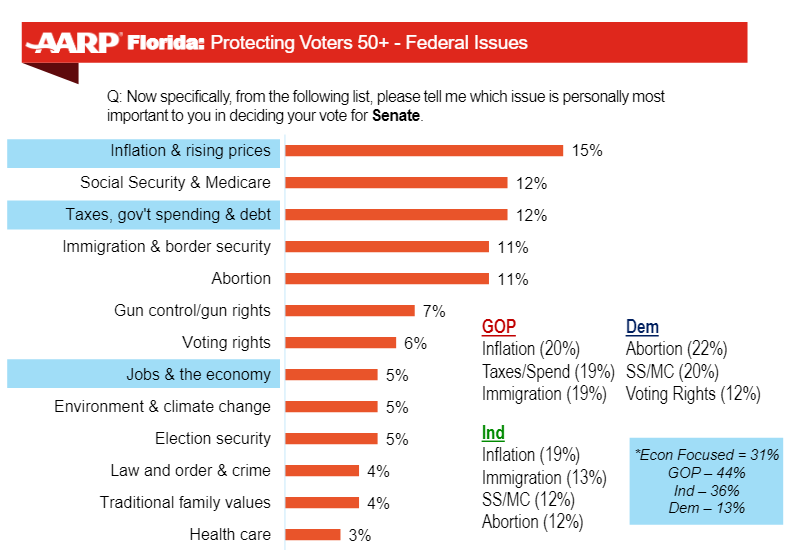 So, for senate just 5%, governor 7%. Of course, when you have both environment and climate, the numbers are higher. I bet if you separated them the environment alone would be at least 4-5 points higher. Interestingly, though, is, if you refer to the last slide of the poll, you see that 58% of respondents are suburban, 26% urban, and 54% are women, so, you'd expect the number to be higher. However, the party ID is 44% Republican, 36% Democrat, 20% independent, which can also skew the poll. Regardless, it's just more proof that after 30+ years of spreading awareness 'climate change' is just not that important of a real world issue. Even among Dems it only made it to 10% for the state concerns.

If you liked my post, feel free to subscribe to my rss feeds.