In a sane world, the parents, teachers, politicians, and news media would be charged with child abuse for how they turn children into mental messes.
Study: Climate change affects mental health of young Oregonians

Anger. Guilt. Shame.

Young people in Oregon say they're experiencing these emotions as they face the impacts of climate change, according to a study released on Tuesday by the Oregon Health Authority.

The agency's report, Climate Change and Youth Mental Health in Oregon, highlights how extreme weather events like wildfires, heatwaves, snowstorms and drought are creating fear, frustration, and hopelessness among young people. OHA partnered with the University of Oregon's suicide prevention unit to host virtual focus groups with people between ages 15 and 25 and interviewed professionals working in mental health, education and public health.

"We want to see more youth mental health support in schools and in our communities," Mecca Donovan, a 23-year-old from Eugene, said. "We want to see youth invited to the table and decision making."

Donovan, who helped host the focus groups, said she wants to see more accountability and acknowledgment of the challenges young people are facing.
Wait, young people face challenges? That's never happened before, right?
One of the key findings from the report said young people often feel dismissed by older generations and not taken seriously by elected leaders.
You want to be taken seriously? You're children. Losing your minds over a fake issue. I have a suggestion, though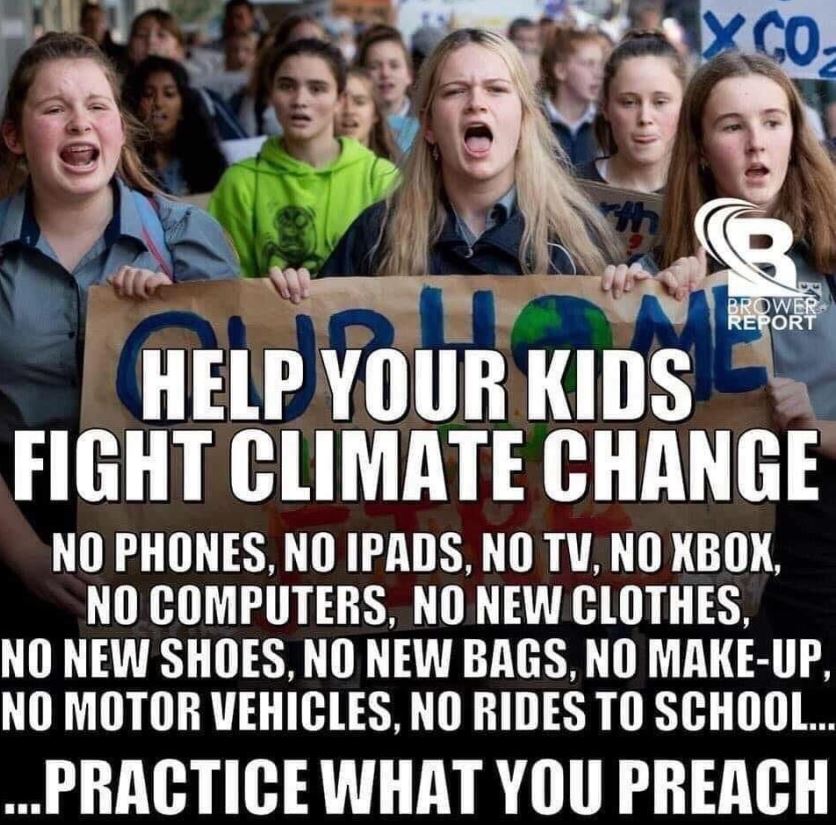 "Burnout is just really, really bad," Eliza Garcia, a recent UO political science graduate, said. "I think that's the biggest thing that I've felt within the movement and the biggest thing that I've had other people my age or younger than me talk to me about, it's just the burnout that comes from having to feel like we're doing this all alone."

Garcia said she's turned down events and opportunities so she can fight against climate change and that pressure has affected her mental health. She said she's particularly concerned about younger activists.

"Now there's kids, you know, middle school, like, beginning of high school that are getting into it and when you're starting that young, I can see that these kids are getting burnt out already and they're not even 20 yet," she said.
The ones indoctrinating the kids have created a generation of miserable creatures. But, then, most of the Left, who are the primary pushers of the scam, are miserable. Go listen to some music, watch a good movie, bake some cookies, go out and enjoy nature (without the phone, so you can focus on the beauty, rather than take narcissistic selfies and vids).
"They see an article about the polar ice caps melting or about rising water, anything like that it's hard for them to focus on whatever they're working on when they think about how the world is ending around them," De La Rosa-Hernandez said.
Some days I find this all highly amusing. This isn't one of them. These cultists are just ruing children with their doomsday prognostications.

If you liked my post, feel free to subscribe to my rss feeds.