Do Democrats put up tons of money or not?
Democrats confront North Carolina blues

Senate Democrats are contemplating just how hard to go after their White Whale: A Senate seat in North Carolina.

The last time Democrats notched a Senate victory in the Tar Heel State was 2008, when former Sen. Kay Hagan (D-N.C.) easily beat former GOP Sen. Elizabeth Dole (R-N.C.). Now, after nominating former state Supreme Court Justice Cheri Beasley, Democrats are balancing a defense of a 50-50 Senate with a half-dozen other competitive states alongside chasing a long-elusive win.

Gov. Roy Cooper, the state's most successful Democrat, is pushing for the party to go all in, despite them losing the last four North Carolina Senate races. He predicted President Joe Biden's rating will improve enough to give Beasley, a Black woman who won a statewide race in 2014 and only narrowly lost in 2020, a fighting chance.

"I know what it takes to win in North Carolina and Cheri Beasley can do it. With everything on the line this year, we need to leave it all on the field for her from the national party on down to the local level," Cooper said in an interview on Thursday.

The Democratic Senatorial Campaign Committee and the Chuck Schumer-aligned Senate Majority PAC combined to spend $60 million in 2020, when a sex scandal brought down Cal Cunningham's once promising campaign to take down Republican Sen. Thom Tillis. At the moment, neither group has reserved any money for the fall campaign, though Cooper said he believes those groups "will be there when it counts." A spokesperson for Senate Majority PAC said the group plans to begin running ads next week.
Perhaps they realize that nominating a far left Progressive doesn't really play well in North Carolina
The National Republican Senatorial Committee and Senate Leadership Fund have plans to spend nearly $30 million in the race already, with the NRSC already running ads attacking Beasley as soft on crime. Without major outside help, the spending disparity would be a struggle for Beasley to overcome no matter how promising a candidate she is. And Democrats still may make a big commitment there this fall to take the seat of retiring Sen. Richard Burr (R-N.C.).
Beasley is the same old extreme Democrat, who wants Medicare for all, abortion with no restrictions, forcing parents to put their kids in government pre-k, government paying for college, climate crisis scam action, the federal government running all voting, criminal justice reform (ie, going easy on criminals), and amnesty for illegals, among others. She seems to be pushing hard lately on abortion, like many Dems
FiveThirtyEight exposes how the Dems non-stop yammering about abortion on demand will play out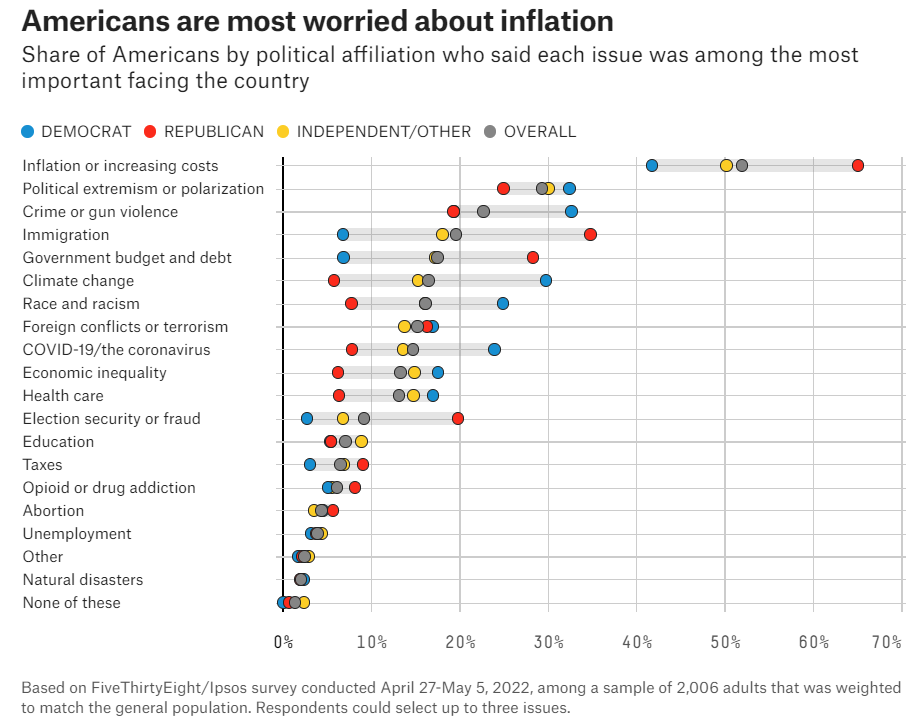 What are people worried about? Inflation. And only 4% of Democrats find abortion to be the most pressing issue.

If you liked my post, feel free to subscribe to my rss feeds.