Well, perhaps the Pope could tell all those big wigs to not take all those long, fossil fueled trips on private jets to a 'climate change' conference? And, perhaps, he could spend more time on the Bible and the teachings of Jesus, rather than an authoritarian scam
Pope Francis calls for 'radical' climate change response before COP26

Pope Francis said Friday that climate change was an "unprecedented threat" which requires an urgent and effective response, as global leaders prepare for the imminent COP26 summit in Scotland.

"The political decision-makers who will meet at COP26 in Glasgow are urgently summoned to provide effective responses to the present ecological crisis, and in this way to offer concrete hope to future generations," the pontiff said, in the "Thought for the Day" message on BBC Radio 4's Today program.

Francis also pointed to health care, food supply issues and economic challenges as part of a "profoundly interconnected" global crisis which represents an "immense cultural challenge."

He called for "vision" in rethinking of the future of the world amid the crises, and urged leaders to make "radical decisions that are not always easy."

"We can confront these crises by retreating into isolationism, protectionism and exploitation or we can see in them a real chance for change," the Pope added.
He's calling for authoritarian, world wide government, screwing the little people and enabling the elites.
Meanwhile
PICS – Not Very Environmentally Friendly: Climate Activists Burn Boat, Litter During Pre-COP26 Protest

Environmental activists from an Extinction Rebellion (XR) offshoot set fire to a prop boat and filled the air with plumes of smoke to protest climate change and fossil fuels.

Two so-called environmentalists from Ocean Rebellion, one dressed as Britain's Prime Minister Boris Johnson, set fire to the small boat bearing a sail reading, "Your children's future" on the banks of the River Clyde in Glasgow, Scotland, opposite the site of the United Nations COP26 climate conference which starts on Sunday.

Footage shared on social media and pictures from the protest showed smoke from the fire rising into the air. The activists from Ocean Rebellion, founded in August 2020 as an offshoot of XR, also burnt fake money, some of which was seen strewn on the ground.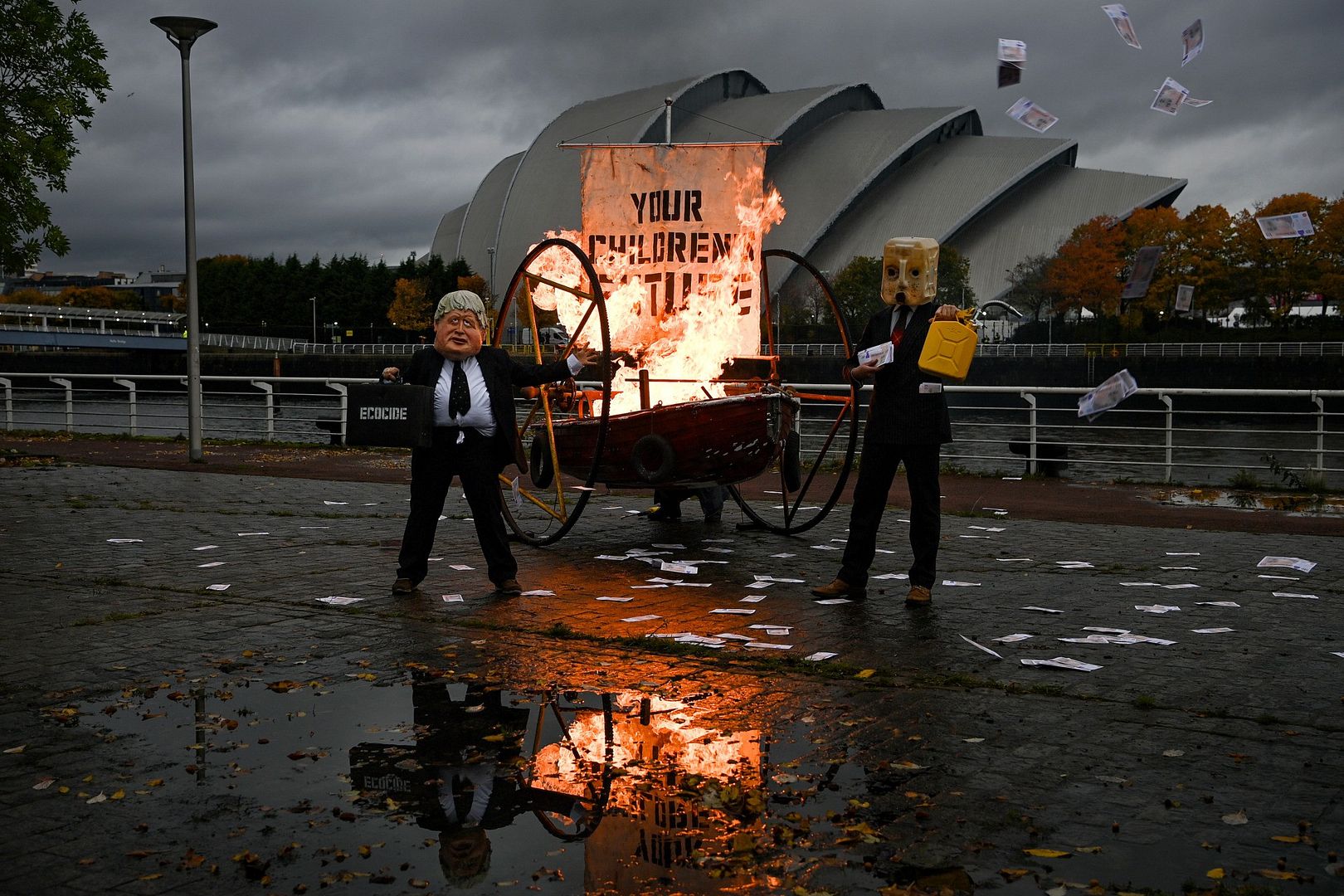 And
On Tuesday, another XR offshoot, Animal Rebellion, scaled the government's Home Office building in Westminster, London, demanding the world adopt a vegan diet.
Funny how they always want the Government to force compliance, eh? Funny how, even with all sorts of rules and regs and laws and Dicates, we get
Canadians have highest "lifestyle carbon footprint" of all nations in this study

New research has found that all nations analyzed exceed the lifestyle carbon footprint required to avert the climate crisis. The report warned of the need for a precipitous reduction in the global carbon footprint and called for changes at the personal and systemic levels.

The research, 1.5 Degree Lifestyles report, analyzed the lifestyle carbon footprint of nine G20 countries, including Canada. Examining domestic habits in six areas, including food, housing, transport, and leisure, the research determined the reductions necessary to align with the 1.5°C warming increase target outlined in the Paris Agreement. (snip)

These recommendations would have particular ramifications on lifestyles in Canada, which was determined to have by far the highest lifestyle footprint of all nations analyzed. The per capita emissions of the average Canadian was found to be fully six times greater than the average person in Indonesia, three times that of Chinese or South African citizens, and not quite double the footprint of someone from the UK.
Canada has a lot of forced climate emergency (scam) restrictions on citizens, yet, they're still tops. It's almost like this has nothing to do with the climate.

If you liked my post, feel free to subscribe to my rss feeds.