I'm sure this is just what the youngsters flicking through profiles looking to hook up (yeah, and I guess there are funny dogs and other things. And adult ones) want to see, right? A bunch of oldies yapping at theme to get vaccinated
White House teams up with Snapchat to encourage Covid vaccinations for young Americans

The White House this week is teaming up with Snapchat to encourage young Americans to get vaccinated against the coronavirus.

Starting Wednesday, Snapchat users will be able to use an augmented reality lens that features President Joe Biden, Vice President Kamala Harris, Dr. Anthony Fauci and viral immunologist Kizzmekia Corbett answering questions about the vaccine.

"Hey folks, we have to get vaccinated. The new variants are affecting young people. Getting the vaccine's going to prevent you from spreading it to your friends and to your family. Let's end the Covid crisis once and for all, now," Biden says during the augmented reality experience, first shared with CNN, which mimics a video call with the President.

The Snapchat experience also includes an augmented reality call from Harris, who shares a link to vaccines.gov — where Snapchat users can find their nearest vaccination sites – and lets users know that Uber and Lyft will provide free rides to vaccination sites, as well as information from Fauci, who tells Snapchat users that vaccinations will protect them from the current Covid-19 variants.

"A fully vaccinated person right now will be protected against the variants that are currently circulating in the country," Fauci says.
These are the same people who keep wearing masks around others who are fully vaccinated, who wear them outside when not near anyone. Who had been basically telling people that they shouldn't change from all the same COVID restrictions even though vaccinated. I'm sure that helps.
But people 24 and younger are getting vaccine doses at much lower rates than their older counterparts, according to data from the CDC. Experts are turning their focus in the fight against Covid-19 to vaccinating young Americans, warning that even though they don't face a high chance of serious illness, they still risk long-term symptoms if they get coronavirus.
Apparently they don't feel like putting anything that hasn't been tested for years in their bodies. Drugs and weird alcohol is perfectly fine.
Earlier this week, the White House joined a group of YouTube creators for a virtual conversation to fight youth vaccine hesitancy, Yahoo News reported. And last week, the White House teamed up with a number of dating apps to offer incentives to customers who have been vaccinated against the coronavirus. (snip)

According to Snap Inc., Snapchat's parent company, the app reaches 90% of young people ages 13-24 in the United States as well as 75% of the 13- to 34-year-old US population.
Is this what you want to see?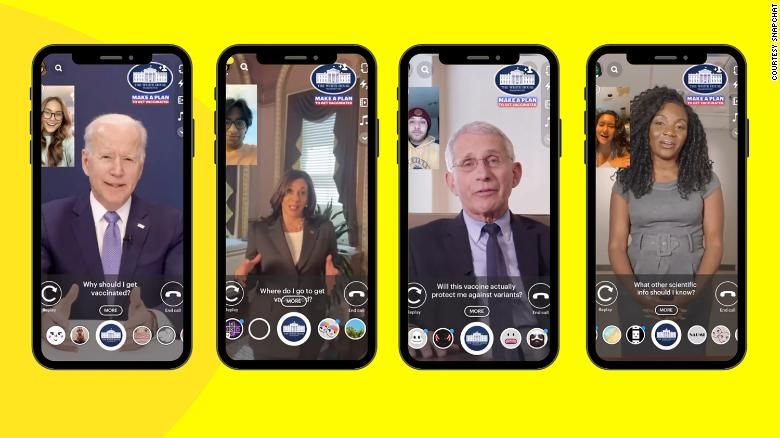 It kinda makes you wonder: we keep hearing that Dems are super thrilled about the virus and are getting it, while Republicans are the problem. Yet, most of these kids vote Democrat.

If you liked my post, feel free to subscribe to my rss feeds.