I actually agree a bit with this climate cultist: it is a dress rehearsal. It shows exactly what a world with all the Hotcoldwetdry policies of the Cult of Climastrology would look like. Would it be this bad? Not in my opinion. Perhaps about half what we're experiencing with job loss, people staying home, economic activity, and so forth
Professor Sees Climate Mayhem Lurking Behind Covid-19 Outbreak

Jem Bendell doesn't shy away from doom and gloom.

The lockdowns and social distancing caused by the coronavirus are giving humanity a taste of the disruptions to daily life that will be caused by climate change, he said.

"In modern industrial societies, the fallout from Covid-19 feels like a dress rehearsal for the kind of collapse that climate change threatens," Bendell said in an interview. "This crisis reveals how fragile our current way of life has become."
When the Black Death killed 75-200 million people directly (from most of what we're hearing Covid-19 doesn't directly kill people) I'm doubting they were worried about the climate turning to a cool one. Nor yammering about what all those ox-carts were producing. But, climate cultists gotta climate cult.
The University of Cumbria social-science professor is well-known among environmentalists for his theory of "deep adaption." In a 2018 paper, Bendell said that time was up for gradual measures to combat global warming. Without an abrupt transformation of society, changes in the planet's climate would bring starvation, destruction, migration, disease and war — the collapse of civilization — within a decade.

Now he's focusing his scalding assessments on the parallels and links he sees between climate change and the pandemic.
Cultists never let a good crisis go to waste. Especially when they have cushy jobs and don't have to worry where their next paycheck comes from, nor losing their house or fossil fueled vehicle, getting a meal, etc.
While there's no direct evidence linking global warming with Covid-19, animals are moving to cooler areas, according to Aaron Bernstein of Harvard University's T.H. Chan School of Public Health. That's brought humans in closer contact with them and the diseases they carry, he said. Epidemiologists say the novel coronavirus originated in bats.

Bendell is more willing to make the connection between coronavirus and climate change. He says that a warmer habitat may have caused the bats to alter their movements, putting them in contact with humans.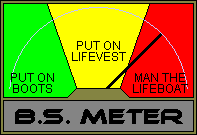 So, the bats flew into the market and into people's mouths? These people just make it up as they go.
Dan Kurland: COVID-19 a test run for climate change

"Be prepared! That's the Boy Scouts' marching song. Be prepared!"

That was the start of Tom Lehrer's 1953 satirical tribute to the Boy Scouts. But being Lehrer, the song quickly went awry: "Be prepared to hold your liquor pretty well. Don't write naughty words on walls if you can't spell …"

Yet the sentiment was right — as the novel coronavirus pandemic has shown. Forewarned is forearmed. And the same holds for the other crisis facing America and the world — climate change.
That article slowly attempts to make the link that Covid-19 was caused by animals moving around because of you driving a fossil fueled vehicle (which caused a slight increase on global temperatures over 170 years).
Here's a thought: all this staying at home and a tanked worldwide economy has caused a dip what they call carbon pollution, known in actual science as carbon dioxide. How much is yet to be known. But, according to CoC dogma, CO2 is the control knob, so, what happens if there isn't a dip in temperatures, and it's just normal? Won't that rather show that this is all mostly caused by nature? I wouldn't be surprised if there was a dip in the urban areas, as, without all the moving vehicles and stuff happening, the actual air pollution which traps heat locally (Urban Heat Island effect), that heat can radiate.
Nothing matters, because we know what this is all about: creating a government run world. Modern Socialism.

If you liked my post, feel free to subscribe to my rss feeds.