Nothing like annoying people with this kind of stuff around Christmas to get them to change their minds, right?
'We wish you a steady climate': Christmas carols remixed by climate activists

A group of about 20 concerned citizens took to the streets in Kensington to sing Christmas carols with a twist.

The group, Extinction Rebellion, advocates for climate action.

Members hope their renditions of 'Let it Snow,' 'Frosty the Snowman,' and 'We Wish you a Steady Climate' will catch the attention of government officials.

"We are already seeing action taken now at the citizen level as more and more people are becoming concerned and they are engaging in civil disobedience, and not violent, direct action techniques," said group member Geoffrey Szuszkiewicz.
Well, the article doesn't have them actually singing, but, they were good enough to tweet out
Calgary rebels gathered earlier today to sing climate crisis carols https://t.co/FsoycFlahm

— Extinction Rebellion Calgary (@XR_YYC) December 23, 2019
Their Facebook has the words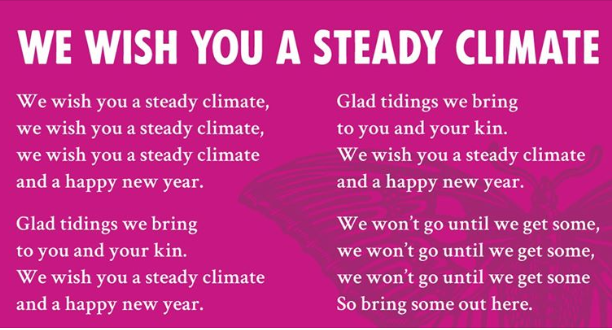 Yeah, yeah
The group wants to see net zero greenhouse gas emissions by 2025, for Ottawa to admit how serious the climate crisis is, and for the federal government to create a citizens' assembly on climate justice.
Funny, because Canadians have started rebelling against the Governments 'climate change' policy push.

If you liked my post, feel free to subscribe to my rss feeds.