After beating the bandwagon with Russia Russia Russia since the moment Trump was elected, after yammering about impeaching him and how Orange Man Bad all this time, saying how he is doing such bad things, after the hysteria over the Mueller report, even refusing to give up after it was a big dud, and now after Ukraine Ukraine Ukraine, the quid pro quo and bribery stuff, all the hearings, having the media in their corner, we still end with
Majority of voters don't want Trump impeached, removed from office: poll

A majority of voters now oppose impeaching and ousting President Trump from office, according to a Quinnipiac University poll released Tuesday — the same day Democrats unveiled articles of impeachment against the commander in chief.

The poll found that 51% of registered voters surveyed said they don't want to see Trump impeached and removed from office — compared to 45% who do.

Answers were split along party lines, with 83% of those who said they want the president impeached identifying as Democrats, and 95% who said they don't identifying as Republicans.

The last time more than 50% opposed impeachment was when House Speaker Nancy Pelosi launched the inquiry in late September.

The poll released Tuesday was conducted between Dec. 4 and 9, during the series of House Judiciary Committee public hearing and after the House Intelligence Committee hearings.
It's interesting that 17% of Democrats do not want impeachment, as the number used to be higher. More will peel away. Independents oppose impeachment 52-44. The more the Dems talk, the more the polls shift.
In the same poll, Trump doesn't doing well on the "handling X" questions except for the one that matters: the economy. 54% approve, 42% disapprove. Even the Never Trumpers aren't dissing him, as 97% of Republicans approve. On the Dem side, 79% disapprove, of course, but, looking at independents, 54% approve/39% disapprove. Those are good numbers for Trump. The economy is where elections are made. Not climate change, not Medicare for All, not foreign policy, it's the economy. Bread and Butter issues.
And the poll goes on to note that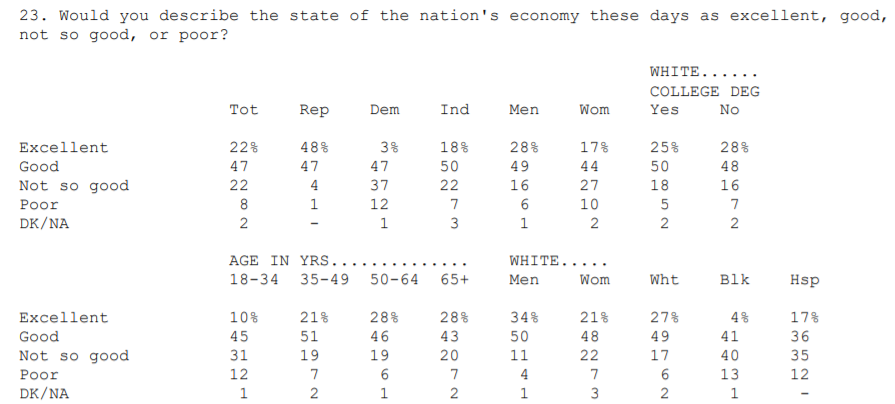 So, the 69% say the economy is good to excellent. Even 50% of Democrats say that. 68% of Independents saying it helps Trump. Never underestimate the power of a good economy in a presidential election, whether they had anything to do with it or not. Hence why the Credentialed Media was beating the "OMG, a recession is coming!!!!" drum.

If you liked my post, feel free to subscribe to my rss feeds.