Obligatory "Trump wins again!" post
JUSTICE DEPARTMENT DELIVERS MUELLER CONCLUSIONS TO CONGRESS – NO COLLUSION

Attorney General William Barr delivered a report of the special counsel's Russia investigation to Congress on Sunday.

By far the most significant finding in the four-page letter is that the special counsel did not find evidence that President Trump or members of his campaign conspired with Russians to influence the 2016 election. Barr also said that evidence was not sufficient to establish that Trump obstructed justice during the investigation.

"The investigation did not establish that members of the Trump campaign conspired or coordinated with the Russian government in its election interference activities," Mueller wrote in the report, according to Barr's letter, which he sent to the chairmen and ranking members of the Senate and House Judiciary Committees.

Barr also said that the special counsel, which consisted of 19 lawyers, found no evidence "that any U.S. person or Trump campaign official or associate" conspired or "knowingly coordinated" with Russian efforts to use social media platforms to spread disinformation during the 2016 campaign. Nor did Trump associates conspire with Russians in the efforts to hack Democrats' emails and disseminate them online.

That finding would seemingly clear current and former Trump associates like Roger Stone, Michael Cohen and Carter Page of allegations that they helped aid Russian hacks of Democrats' emails.
All in all, not one person has been indicted, much less convicted, of collusion or the other things Democrats were alleging, all because they were sore losers for the 2016 election.
Of course, there are plenty of hot-takes from Democrats, and many are refusing to give up on the Narrative, which pretty much guarantees Trump's re-election. Mother Jones' David Corn is saying that Trump aided and abetted Russia's attack, which is "not a crime, but a betrayal." Say, who was in the White House at the time and doing nothing? The Washington Post tests out their own new conspiracy where Trump is repaying Putin.
Dems have also pivoted to the "the report must be released or it's a conspiracy!" narrative
Mueller spent two years investigating obstruction of justice and found evidence that "does not exonerate" Trump. Barr took two days to set aside that evidence.

The entire report must be published and evidence provided to Congress so the American people can judge for themselves.

— Adam Schiff (@RepAdamSchiff) March 24, 2019
That notion is replicated across the Democrats and their pet media. And the #NeverTrumpers.
Until we hear from Mueller, call it the Barr Report.

— Rep. Eric Swalwell (@RepSwalwell) March 25, 2019
And they want Mueller to testify in front of Congress.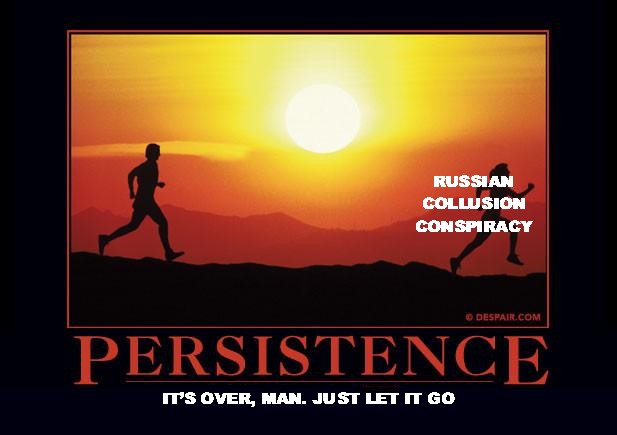 If you liked my post, feel free to subscribe to my rss feeds.