According to Cult of Climastrology doctrine, the Earth is always supposed to stay the same. The same temperature, same weather patterns, animals never change, it's always the same. Well, I'm blaming your for this
A storm moved a 620-tonne rock in Ireland, a stunning new climate change omen

Along the rocky coasts of Ireland's Aran Islands, scientists have found a new demonstration of the immense power of ocean waves – and a possible hint of what we should fear if climate change makes coastal storms more intense.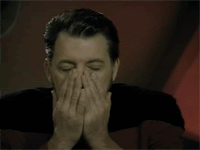 A 620-tonne boulder – equivalent in mass to about 90 large African elephants – moved several metres on the island of Inishmore in the winter of 2013-2014 after being slammed by powerful coastal storm waves, according to the research led by Ronadh Cox, a geoscientist at Williams College.

It was just one of over 1000 boulders that moved along Ireland's coasts during the storms, many of them quite large, Cox said. (snip)

"There were boulders that were created from bedrock that were ripped up and disaggregated and the pieces flung into the boulder ridge at 90 metres inland and 50 metres above sea level."

The discovery could help reset our assumptions about how to interpret a variety of mysterious rocks littered along shorelines around the world, which scientists have traditionally linked to powerful tsunami waves.
So, these types of things have happened before. And they thought it happened due to tsunamis. But, waves in water are rather powerful. Anyone who's visited the ocean and gotten nailed by a wave knows this. The team of scientists decided to do some field research, and found that rocks and boulders were being moved by, get this, waves. Strong Atlantic waves. So, of course, we have to jump to 'climate change'
The real question raised by the work, though, is what it says about the future of climate change.

If seas rise and storms worsen with a changing climate – as some predict – then understanding the damage that can be wrought by battering waves will be important, Cox said.

"The more intense the storms, the higher the wave energies, so the likelihood of these stronger wave energies hitting in other places becomes greater, as well," she said.
No matter what, Warmists have to make it all about their pet cult and fearmonger.
Meanwhile, there's this
Guatemalan mother struggles to feed her children amid climate change
Guatemalans struggle to feed kids amid climate change
Because no parent ever had trouble feeding their children prior to the combustion engine, ya know.

If you liked my post, feel free to subscribe to my rss feeds.