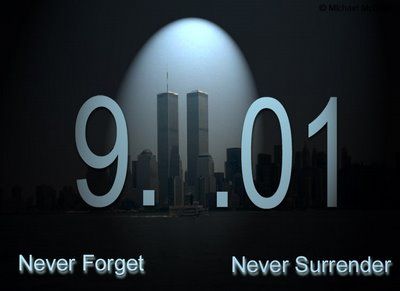 Today marks the 14th anniversary of that dark day, when Islamic jihadis killed 2,996 of our friends, neighbors, and loved ones. Three years ago, the USA Today is wondered if 9/11 is becoming just another day, similar to Pearl Harbor Day. Based on the limited coverage by some news outlets, it may be.
People wonder why we should Remember the day in an overt fashion, unlike, say, Pearl Harbor day. Well, we defeated the Japanese within a few years. It was a different type of war. 9/11 was when we were attacked on our continent by people who will not stop anytime soon, an enemy that is not centralized by a nation, who spread according to their religious tenets.
Why should we never forget? Things like this (click the more tag)
There's also the long video The Falling Man. And 102 Minutes That Changed America.

If you liked my post, feel free to subscribe to my rss feeds.