Facts are apparently false. Here's the Washington Post's fact checker, Glenn Kessler, giving it the old college try to protect the "Affordable" Care Act, something many, many liberals, and ultra squishy "Republicans" who spend more time bashing Republicans than Democrats, have tried before
"The president has exempted over 1,200 groups, including members of Congress, from the health care law." – Rep. Steve Scalise (R-La.), in an interview on CNN, Oct. 15, 2013
That's the fact checked statement, and here's what Kessler writes
The first part of Scalise's statement refers to one-year waivers that the Department of Health and Human Services granted to 1,231 companies regarding the law's restrictions of annual benefit caps.

Yep, you read that correctly. He is referring to a one-year waiver regarding one, relatively small aspect of the law.
Apparently, that's supposed to be incorrect, despite "over 1,200" companies being given waivers. For the companies, that's a short term proposition, but, they were, in fact, given an waiver. A bit of a stretch in the language, welcome to Politics 101.
Now we get to the typical spin
As for Congress being exempted, this is also incorrect.

As a result of an amendment offered by Sen. Charles E. Grassley (R-Iowa), the Affordable Care Act includes a provision that would require members of Congress (and their personal staffs) to get their insurance on the Obamacare exchanges.
OK, so, The Law, or, as Liberals and squishy Republicans put it "It's The Law", requires that Congress and their personal staffs go through the Exchanges. Is that so hard to understand? Apparently so
But there was an unexpected wrinkle: the exchanges are intended for people who currently do not get employer-provided insurance, whereas lawmakers and their staffs previously had about 70 percent of their insurance premiums underwritten by the federal government through the Federal Employees Health Benefits Program.

For lawmakers and their staffs, the loss of employer contributions would have amounted to an unintended pay cut of between $5,000 to $10,000. Under pressure from Congress, the Office of Personnel Management proposed a rule in August, which was finalized in September, saying the federal government could still contribute to health-care premiums.

The final rule would keep the subsidy in place only for members of Congress and affected staff who enroll in a Small Business Health Options Program (SHOP) plan available in the District of Columbia. Such plans most commonly will be aimed at employees of businesses with fewer than 50 workers, but perhaps the theory is that each lawmaker and his or her staff constitute a small business. In any case, lawmakers and their staffs are not eligible for the tax credits that other Americans using the exchanges might qualify for.
They also tend to make quite a bit more than the Average American, so wouldn't be eligible in most cases.
Bell argued that "under the OPM rule, approximately 16,000 congressional employees will obtain their health insurance through the SHOP exchanges, 320 times more than the amount supposedly allowed under the law." He said this "is clearly an exemption from the ACA for Congress by the Obama Administration." He cited a dictionary definition of exemption: "freedom from being required to do something that others are required to do."

But as we noted, the exchanges were not intended for people already with employer-provided insurance. So it's already a rather unusual situation. Costs have been imposed on lawmakers and their staffs that did not previously exist, and OPM's rule appears intended to solve that problem — instead of "exempting" them from the health care law.
Regardless, It's The Law mandated they purchase through the Exchanges, just like so many millions of Americans must do. Especially those who are losing their health insurance plans because of Obamacare. Lawmakers are supposed to feel the pain. The OPM rule makes sure they don't. They're exempted from the pain. It matters zero that they already have "employer provided insurance". The law says "hit the exchanges". Period
Furthermore, the law itself included a waiver from the law for leadership staffs, which include some of the same people who wrote this mule fritters bill. This payment is also illegal. OPM has zero authority to provide payment.
Break it down: Are Congress members and their staffs getting insurance on the individual exchange, and are they having to pay for it themselves just as the law intended? No. Kessler gives Scalise 3 Pinocchio's out of 4, for what is technically correct. I'll give his spin 3 Donkeys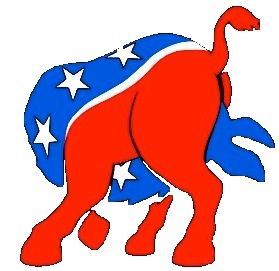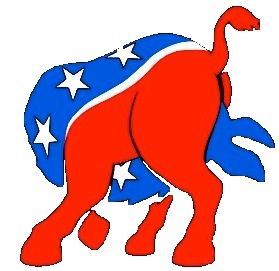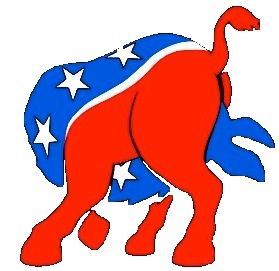 Crossed at Right Wing News and Stop The ACLU.

If you liked my post, feel free to subscribe to my rss feeds.