You know, climate refugees
(EurActiv) Voices from across the developing world are warning EU leaders that a failure to cut CO2 emissions and respect funding commitments for projects to mitigate and adapt to global warming will lead to more climate refugees, and more tragedies like the one in Lampedusa.

As of today (8 October), the death toll from the sunken refugee boat stands at 232 people but, with another 200 still missing, it is expected to rise.

The boat was mostly carrying migrants from Eritrea, which the UN's Office for the Coordination of Humanitarian Affairs says "has suffered greatly from the negative effects of climate variability" since 2000, and now suffers drought every three years.
Do we have long term data on Eritrea? We do know that it sits on the Horn of Africa. It's eastern part along the Red Sea has generally been hot and dry. Unsurprising. They also deal with constant political issues, including from Islamic extremists, known formally as the Eritrean Islamic Jihad (they go by other names, too).
I do enjoy the part about "negative effects of climate variability". Will that be the new talking point from Warmists, blaming man for cold and hot? Anyhow, if people can't adapt to less than a 1.3C increase in temperatures, perhaps they shouldn't be living in that area.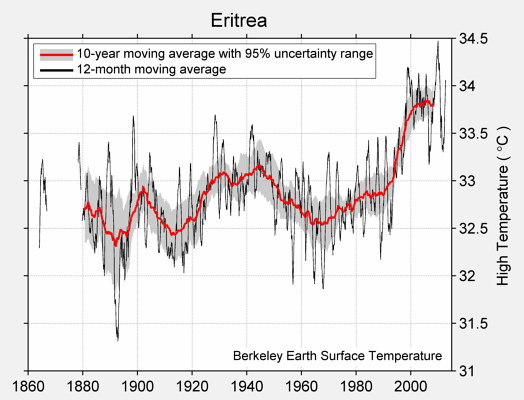 Interesting. Notice the pause/dip from 2000 on.

If you liked my post, feel free to subscribe to my rss feeds.