You can easily ascertain exactly when Democrats are losing a debate, because they revert to throwing out personal attacks and smears. Wit(ch)ness Queen Nancy (OK, cheap shot)
Right before the House voted to reject a Democratic debt-ceiling plan, Minority Leader Nancy Pelosi didn't mince words.

Pelosi pulled out a Star Wars reference on the House floor, saying that Speaker John Boehner "chose to go to the dark side" and court the most conservative members of his conference, rather than work on a bipartisan compromise.
Yeah, as I've said, remember all that bipartisan compromising we had for the Stimulus, ObamaCare, financial "reform" bill, creation of the Consumer Protection agency, all the spending bills, and such from January 2009 till the Dems were blown out in the historic 2010 midterms?
I so dearly want Speaker Boehner to replace his gavel with a lightsaber ASAP, just to annoy Nancy. Juvenile, yes, but, when one is dealing with the Democrats, you have to speak to them with simple words and actions.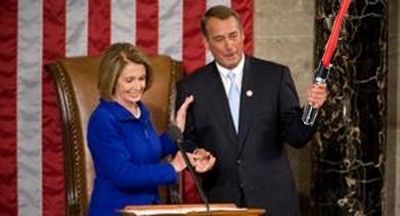 If you liked my post, feel free to subscribe to my rss feeds.