Perhaps we shouldn't even mention this. The Warmists might just do something radical and violent. Story via No Trick Zone, from the German news site Bild
Catfood, cat litter, waste… every cat leads to 2.2 tons of CO2 emissions annually. No other house pet leaves such a terrible ecological paw-print.

Just the manufacture of cat food and its packing leads to about one ton of CO2 per cat. The waste disposal of food cans and cat litter burdens the climate with an additional 1250 kg of carbon dioxide. Then you have to include the water consumption for cleaning the cat potty."
And don't forget about all the power consumption from taking pictures and videos of cats, and viewing them on the Internet!
Of course Bild reminds us that cats themselves are not really the problem, but people who keep them. Bild writes: "Humans by far are worse for the climate".
Of course.
Gratuitous cat GIF below the fold, via The Chive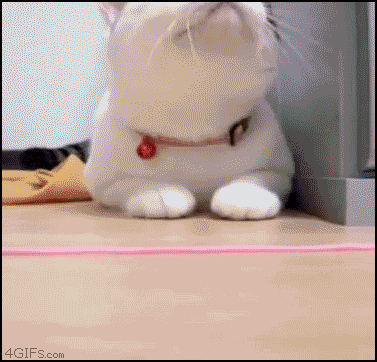 If you liked my post, feel free to subscribe to my rss feeds.