You remember Fallujah, right? A hot bed of anti-Americanism, the only difference between it and San Francisco is that the people there were trying to, and succeeding, in killing American soldiers. Now (via America's North Shore Journal)
By Cpl. Chris T. Mann
Regimental Combat Team 1 Public Affairs Office

FALLUJAH, Iraq – Only a short time ago the city of Fallujah served as stronghold for insurgents. Daily skirmishes, improvised explosive device detonations and public unease made operating a business in the city very difficult.

Today, with improved security throughout the region, the low price of 4,000 dinar, or $3.50, will purchase a full meal at the recently established Kentucky Fried Chicken in the Hey Al Dubat area of the city.
How cool is that? I wonder if the NY Times and the rest of the "we need to retreat in Iraq" media will cover this news.
Ace Of Spades:Â  I love the smell of 11 herbs and spices, it's the smell of victory.
Blue Star Beth: You know there's real progress being made in the Battle of Iraq when American fast food restaurants start opening there.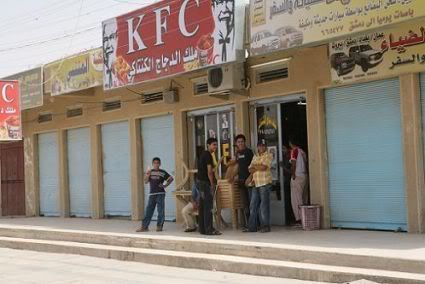 As long as we do not combine it with a Long John Silver's, everything will be OK.

If you liked my post, feel free to subscribe to my rss feeds.