Happy Friday to all! It's that time of the week again! Do you have an interesting post you want to share with everyone? The official Surrender Monkey of the Democratic Party says to do what the Lefties don't, since they all have the same talking points: link it!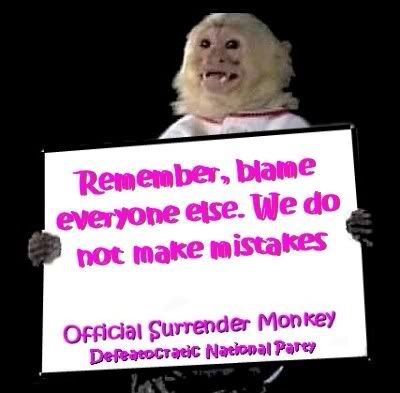 Remember that meme of the Democrats, that Bush never admitted a mistake? The one where they received the help of most of the Credentialed Media in constantly asking Dubya to admit a mistake, particularly during the 2004 election cycle? Funny how they themselves will never admit a mistake, instead, blaming Bush for their poor leadership and action skills. For instance, in the case of the FISA law
But Ms. Pelosi and other House Democrats said Mr. Bush and Congressional Republicans were at fault because they had resisted temporarily extending the bill to allow disagreements to be worked out. Democrats would not be bullied into approving a measure they considered flawed, she said.

"The president knows full well that he has all the authority he needs to protect the American people," said Ms. Pelosi, who then referred to President Franklin D. Roosevelt's admonition about fearing only fear itself. "President Bush tells the American people that he has nothing to offer but fear, and I'm afraid that his fear-mongering of this bill is not constructive."
So, it is President Bush's fault, along with the House Republicans, that, according to the NY Times, Pelosi refused to schedule a vote
The refusal of Speaker Nancy Pelosi, Democrat of California, to schedule a vote on a surveillance measure approved Tuesday by the Senate touched off an intense partisan conflict over the national security questions that have colored federal elections since 2002 and are likely to play a significant role again in November.
She did have time to schedule a different vote on the legislation, which she also blames on Democrats. She wanted to extend the law as it was, rather then passing the newer one. 34 Democrats crossed the aisle to vote "no" with every Republican.
And let's not forget that she had time to play politics with a contempt charge against Harriet Miers and Josh Bolton. Important bidness! But don't forget, Nancy Pelosi has to go to a wedding. Apparently, that is more important then FISA. You know, that whole "provide for the common defence…" thing. Must be important, since it is in the Preamble to the Constitution, which is the ultimate law of the land, whether some Democrats like it or not.
Nancy had lots of time to schedule votes on feel good measures, those "supporting the goals and ideals" types. While some are worthwhile, none of them are above protecting the United States from all enemies, foreign and domestic. Check the daily digest for Thursday.
John at Power Line writes that Congressional Democrats are not serious about national security. That sorta goes without saying, but, it needs to be said. Funny how they used to complain about Bush and the House GOPÂ not implementing every single measure recommended by the 9/11 Commission, yet, now that they are the majority party in Congress, they do worse then nothing.

Send a trackback to this post, but don't forget to link it.

If you liked my post, feel free to subscribe to my rss feeds.