A bright Tuesday to everyone. It looks like the current version of the Democrats surrender in Iraq legislation will be up for voting shortly. In the House on Wednesday and the Senate on Thursday, which gives Old Yellow Stain Reid a few more days to show he doesn't support America or her troops. After 4 years, this is the best plan the Dems can come up with
"Our first step: immediately transitions the U.S. mission away from policing a civil war to training and equipping Iraqi security forces, protecting U.S. forces and conducting targeted counterterror operations," Mr. Reid said.

"U.S. troops should not be interjecting themselves between warring factions, kicking down doors, trying to sort Shia from Sunni or friend from foe."

The Democratic strategy's three-pronged focus as detailed by Mr. Reid would limit combat operations by rolling back security patrols by the U.S. military in sectarian hot spots and by barring participation in the systematic search for insurgents — tasks typically determined by commanders on the ground and Mr. Bush as the commander in chief.
First, how can US troops conduct targeted counterterror ops AND be barred from participation in the search for insurgents? Oops, I forgot, the insurgents are freedom fighters, not terrorists, in Liberal World.
Second, it sure sounds like Reid is saying our troops are the bad guys, much as Kerry did when he said "and there is no reason, Bob, that young American soldiers need to be going into the homes of Iraqis in the dead of night, terrorizing kids and children, you know, women, breaking sort of the customs of the — of — of — of — historical customs, religious customs, whether you like it or not."
Like I just wrote, the vote timeline gives Reid more time to say something despicable.
But, wait, there is more! Senator Russ "Censure" Feingold is the author of legislation that would force 2008 Presidential candidates to go on record regarding their positions on Iraq. Did I just hear the Constitution tear? Well, anyhow
Sen. Hillary Rodham Clinton, New York Democrat, often promises on the campaign trail that if President Bush does not withdraw troops before January 2009, "When I'm president, I will."

But the specifics of her proposed Iraq plan actually would keep a number of troops in the region to protect "remaining vital national security interests in Iraq," according to an interview with Mrs. Clinton last month detailed in the New York Times.

"It would be far fewer troops," she said. "We would not be doing patrols. We would not be kicking in doors."
I guess we now have Hillary Cares on record stating what she thinks of our troops, too. Facist puppets and Nazi's. Who else would be kicking down doors?
Can we question their support of the troops yet?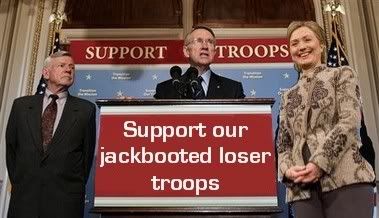 Original idea from Are We Lumberjacks?

Do you have an interesting post? Well, go ahead and leave a trackback, with a reciprical link back to me. Others offering open trackbacks are over in the right sidebar, near bottom.

If you liked my post, feel free to subscribe to my rss feeds.