Well, I was looking to discuss the News and Observers latest article on the complete and utter F*** ups in by Nifong in the Duke Lacrosse case, but this story is too perfect to ignore:
Democratic presidential candidate John Edwards may be campaigning as a populist, but when he's in L.A., he gets a $400 haircut from a Beverly Hills stylist.

Edwards' presidential campaign reported twice paying $400 for haircuts at Torrenueva Hair Designs, according to reports filed this week with the Federal Elections Commission.
Wait, they have to file haircuts with the FEC? You have got to be kidding me. Of course, a report like this is great political fodder.
But Joseph Torrenueva said one reason the haircut was pricey was because he went to Edwards rather than having the former senator come to his shop a block off Rodeo Drive.

"I do cut his hair and I have cut it for quite a while," Torrenueva told The Associated Press.

Edwards has spent a considerable time in California raising funds.

Edwards' campaign also reported spending $250 in services from Design Works Salon in Dubuque, Iowa, and $225 in services from the Pink Sapphire in Manchester, N.H.

Ariana Franggos, owner of the Pink Sapphire, said she was hired by the Edwards campaign to apply TV makeup for an Edwards television appearance. She said she has done the same thing for "quite a few" other presidential candidates.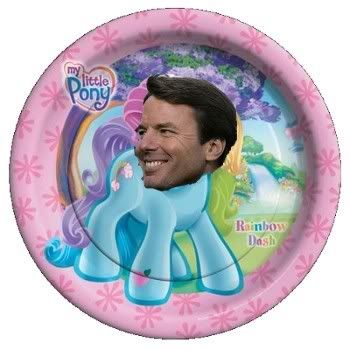 I bet all you folks out there are used to having a top flight hair designer come to you, eh? And makeup artists. Man of the People, definately. Would someone please get him a latte' and his slippers? Thank you.
Beth at Blue Star Chronicles has more.
This makes me feel a lot better about Edwards' concerns about the two Americas. It's obvious he's really in touch with the poor of America! I'm sure he's 100% sincere in his concerns for the poor.
Heh!
Much later update: Hot Air says "Silk Pony" is to no longer be used. Henceforth, he is to be called Pink Sapphire. Are there waivers for North Carolina residents?
Trackposted to Outside the Beltway, Perri Nelson's Website, Blog At MoreWhat.com, The Random Yak, Maggie's Notebook, Adam's Blog, basil's blog, Helium, Shadowscope, Stuck On Stupid, The Bullwinkle Blog, The Pet Haven, Conservative Cat, Conservative Thoughts, Pet's Garden Blog, third world county, stikNstein… has no mercy, Blue Star Chronicles, Planck's Constant, Right Voices, and The Yankee Sailor, thanks to Linkfest Haven Deluxe.

If you liked my post, feel free to subscribe to my rss feeds.