Happy Friday to all! It's that time of the week again! Do you have an interesting post you want to share with everyone? The official Surrender Monkey of the Democratic Party says to do what the Lefties don't, since they all have the same talking points: link it!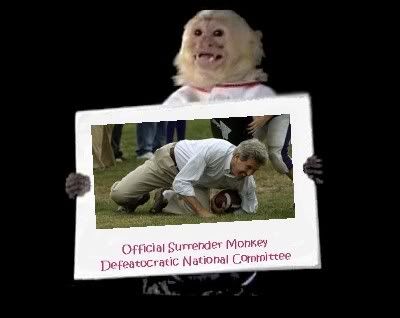 Originally, Surrendy wanted to discuss the Holidays, how to be inclusive of all race's, creeds, and religions, but, as I informed him, his liberal disciples have pretty much avoided any mention of the holidays so far. You won't find many mentions of Christmas throughout most of the Left-O-Sphere, from the Daily Kos to Democrats.org to the DU to (never)MoveOn. Heck, 20 minutes of tuning in to CNN gave me no clue that Christmas is only a few days away.
So, he decided to stay with the standard Friday theme, and discuss another Democrat that he truly loves
Sens. John Kerry and Christopher Dodd met with Syrian President Bashar Assad on Wednesday and discussed the need for Damascus to cooperate with efforts to maintain the unity and stability of war-ravaged Iraq, state media reported.

"I feel quite confident in saying this was a conversation worth having and that the (Bush) administration ought to pursue it," Kerry said in a telephone interview with the Associated Press from Jerusalem where he traveled after the meeting with Assad. "I feel very strongly about that. . . It's worth following up on a number of avenues."

The Democratic senators, both prospective 2008 presidential candidates, and Assad "reviewed the situation in Iraq and stressed the importance of supporting the current political process to arrive at setting a timetable for the withdrawal of foreign troops," SANA said.
John Kerry at his best, laying out the plans for surrender to the leader of a terrorist state, which, besides their meddling in Iraq, is in the process of undermining the legitimate government of Lebenon.
Most Dems have given up on Kerry at this point, however, this bit of surrender monkeyness may get him back in their good graces. And, if he manages to win the Dem primaries, he will complain about being swift boated when it is brought up about his going to Syria.

Send a trackback to this post, but don't forget to link it.

If you liked my post, feel free to subscribe to my rss feeds.