Happy Friday to all! It's that time of the week again! Do you have an interesting post you want to share with everyone? The official Surrender Monkey of the Democratic Party says to do what the Lefties don't, since they all have the same talking points: link it!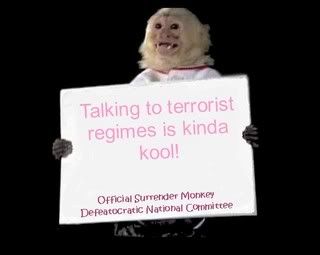 Yes, talking to terrorist regimes is apparently all the rage with the SMs. First, we had Senator Ben Nelson (SM-Fla) (which rated 5 stories on Yahoo News)
Sen. Ben Nelson, D-Fla., emerged from a meeting with Syrian President Bashar Assad in Damascus on Wednesday, saying Assad was willing to help control the Iraq-Syrian border. Nelson said he viewed Assad's remarks as "a crack in the door for discussions to continue. I approach this with realism, not optimism."
And now, Sen Gone, woops, that's John Edwards, I mean Sen. John Kerry (SM-Mass)
U.S. Senator John Kerry, the Democratic candidate for the presidency in 2004, said on Thursday the U.S. administration should talk to Syria and Iran.

Kerry also told reporters in Cairo he believed U.S. policy in the Middle East was in trouble, partly because the United States had failed to listen to people in the region talk to terrorist regimes.
Of course, remember, Kerry has a history of talking to enemy regimes during the turbulant 70's. And even former Presidential failure, Jimmy Carter (an embarrassment to all Southerners) is chiming in.
Great ideas, guys. Nothing like talking to the folks that want to destroy us and control, at a minimum, the Middle East.
The White House said Thursday that trips to Syria by U.S. lawmakers are a public relations victory for a government that is thwarting democratic reform in the Middle East.
I'd say so, but, these are Democrats, who enjoy thwarting the United States.

Send a trackback to this post, but don't forget to link it.

If you liked my post, feel free to subscribe to my rss feeds.