Well, not truly. I'm not going that far. But, after a conversation with JulieB, I thought it was about time to do some alteration, waiting for the movie to come out. Still cannot get that pesky header color to mix perfectly. Oh, well.
Anyone else out there as psyched for "The Revenge of the Sith" as me? As I discussed with JulieB, I refuse to look at any of the trailers, read anything about it, look at the promo material, read the book. etc. Nada. I wanted the full "WOW!" experience.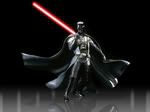 However, I'll throw this one in.
Also, if any other Typepad users out there want to get their own unique domain name, I am offering my services to help you.

If you liked my post, feel free to subscribe to my rss feeds.