Remember this from Brandon on Friday?
"We can no longer plead ignorance to the consequences of our actions, or continue to repeat our mistakes," Biden said.
Also Brandon
No comment required. https://t.co/caFOJIqMyO

— Patrick Moore (@EcoSenseNow) November 12, 2022
And this is all your fault
Climate change will alter lightning patterns

A new study led by the Newcastle University has found that climate change could alter lightning patterns across Europe. By using state-of-the-art Met Office climate simulations with the highest local details in meteorological and topographic features down to two kilometers, the experts estimated that global warming could lead to more lightning over mountains and in Northern Europe and less lightning over Central Europe.
Everybody panic! Things have never ever changed on Earth before.
How beavers could help protect water quality from climate change

Beavers could help protect water quality and ecosystem health from the effects of climate change, new research suggests.

The conclusion comes from a new study in the journal Nature Communications focused on a beaver dam outside Crested Butte. In 2017, Christian Dewey, then a doctoral student focused on water and soil science at Stanford University, set out to research shifting steam flows along the East River, a winding tributary of the Colorado River.

As climate change drives more frequent droughts and drier weather long-term, scientists fear excess nutrients, like nitrogen, could build up in waterways, contaminating the water and the surrounding river ecosystems. Major downpours and seasonal snowmelts flush away the harmful chemicals in normal years.

Low nitrogen levels benefit many organisms, but Dewey said too much can trigger harmful algal blooms that deprive fish and other creatures of essential oxygen. Accumulated nitrogen also puts human infants at a higher risk of "blue baby syndrome," a potentially deadly condition defined by low blood-oxygen levels.
Taking an ecological issue and putting it under the banner of climate doom.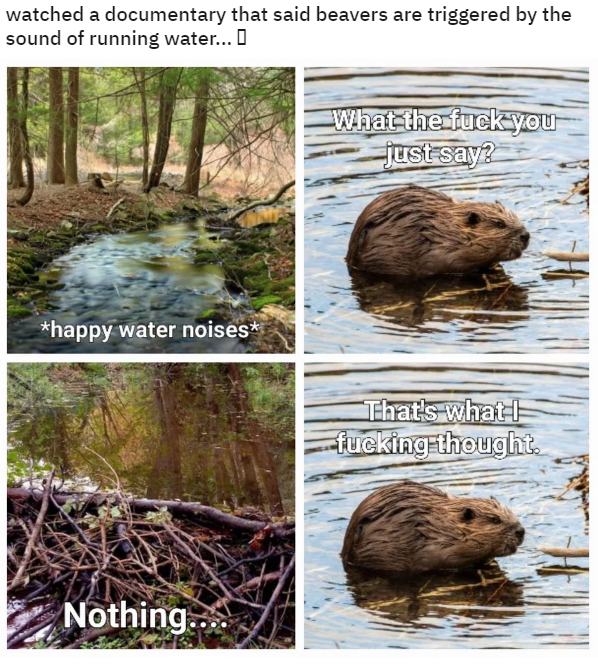 If you liked my post, feel free to subscribe to my rss feeds.