Won't someone think of the children?
A billion children at 'extreme risk' from climate impacts – Unicef

Almost half the world's 2.2 billion children are already at "extremely high risk" from the impacts of the climate crisis and pollution, according to a report from Unicef. The UN agency's head called the situation "unimaginably dire".

Nearly every child around the world was at risk from at least one of these impacts today, including heatwaves, floods, cyclones, disease, drought, and air pollution, the report said. But 1 billion children live in 33 countries facing three or four impacts simultaneously. The countries include India, Nigeria and the Philippines, and much of sub-Saharan Africa.

The report is the first to combine high-resolution maps of climate and environmental impacts with maps of child vulnerability, such as poverty and access to clean water, healthcare and education. "It essentially [shows] the likelihood of a child's ability to survive climate change," said Nick Rees, one of the report's authors.
Right, right, things that have always happened are now assigned as caused by witchcraft, er, 'climate change'. This is the in the upper tiers of scaremongering, using children as shields to give government more of your money and reducing your freedom and choice. Really, in a sane world, these people would be shamed for using children in this manner.
The report calls for the inclusion of young people in all climate negotiations and decisions, including at the UN Cop26 summit in Glasgow in November. "The decisions will define their future," said Fore. "Children and young people need to be recognised as the rightful heirs of this planet that we all share."
Yeah, let's include the people with no knowledge.
Thunberg said: "We are not just victims, we are also leading the fight. But [the world] is still not treating the climate crisis like an emergency. We are still just talking and greenwashing things instead of taking real action. But, on the other hand, there have been many millions of people mobilised, especially young people, and that is a very important step in the right direction."
Yes, let's take real action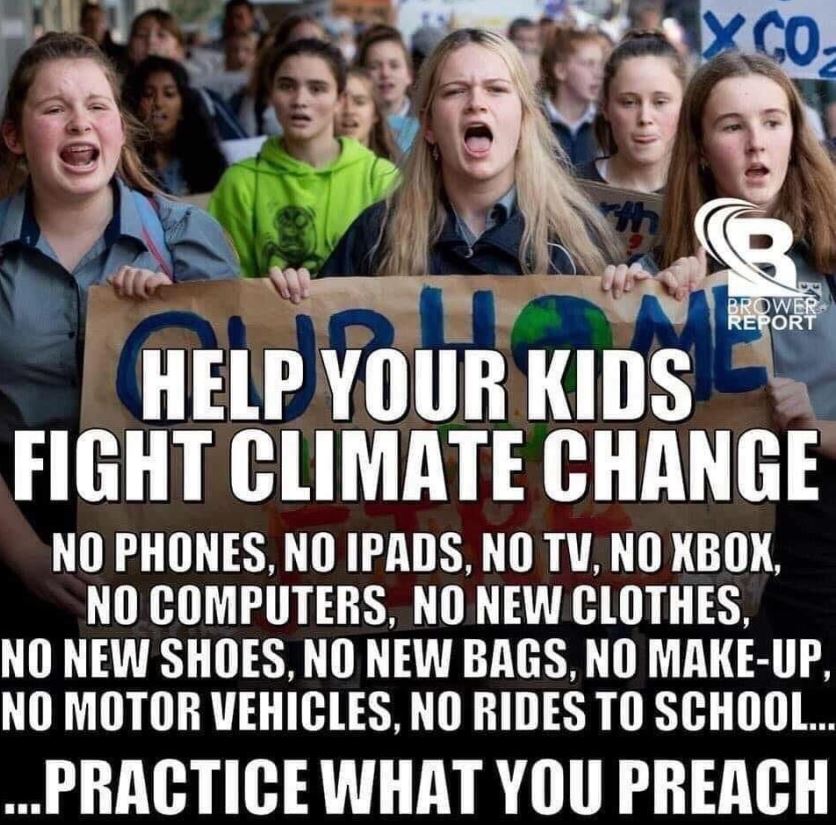 If you liked my post, feel free to subscribe to my rss feeds.