The weird part is that not one of these Gen Z folks mention how they refuse to use fossil fuels and live their lives carbon neutral
Inside Gen Z's fight for climate change action

Jerome Foster II says he first became aware of climate change when he was 6 years old. By the time he was in sixth grade, he was talking about climate change at the lunch table with his friends. Like many of his generation, Jerome has grown up with a visceral understanding that he will face the consequences of a changing climate during his lifetime.
It was probably rather lonely when he'd sit down at a table and everyone would get up and walk away, wanting to be kids and talk kids stuff
"We are racing against time," he said, pointing to the findings of the U.N.'s Intergovernmental Panel on Climate Change. "The report says we have 11 to 12 years before we reach key tipping points in our climate system before we start to see increased disasters like we're seeing now" — disasters like the record-breaking wildfires raging in the West.

"People keep saying our children's children will see the consequences of climate change, but that was 50 years ago. We're the children."
What happens if we make it to 2030 and everything is just fine without all the crazy Cult of Climastrology policies in effect? Do the Warmists like Jerome give up?
Now an 18-year-old college freshman, Jerome grew up in Washington, D.C., and interned for the late Congressman John Lewis. During his internship, he started weekly climate strikes in front of the White House and helped organize the 2019 Global Climate Strike that brought young people around the world out of their classrooms and onto the streets to demand action on climate change.
So, demanding Other People take actions that these kiddies won't?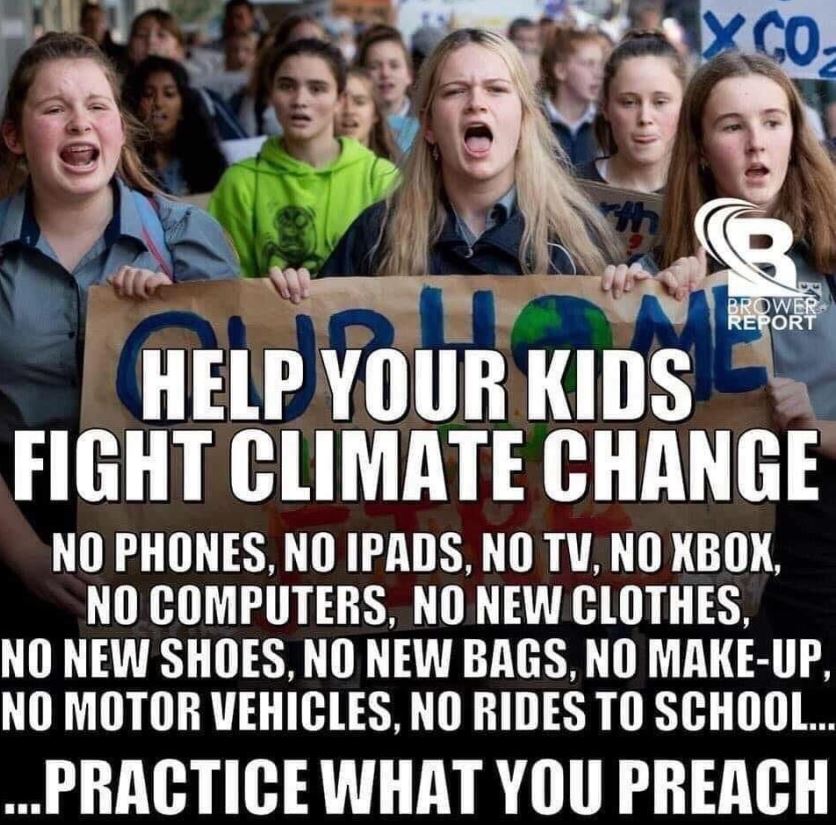 "Hope comes from action, and hope comes from elected officials actually taking these things seriously," he said. And as Jerome prepares to cast his first vote, he hasn't given up hope.

"People are still underestimating these [youth] votes, but you can't underestimate us," he said. "Young people have always been leaders of change. We've always been out in the streets. We've always been pushing the envelope because we want our future to be better."
This sounds more like a political movement, especially with none of the little Warmists modifying their own big carbon lifestyles. Then there's Miguel Escoto
"The climate crisis is first and foremost a human issue. It is first and foremost an issue about protecting vulnerable communities," he told CBS News. "There is no easy way to do that, but investing and promoting and valuing communities instead of industry, I think that can get us started."
And there's no better way to help them than making them reliant on Government, right?
For Miguel, climate justice is where race, migration, economic inequality and other social justice issues all intersect.

"The climate crisis makes racial injustice more unjust; it makes poverty more brutal. Our generation is able to make those connections. I think that's what gives us strength."
So when they say "scientists tell us", what they really mean are social scientists and political science graduates.

If you liked my post, feel free to subscribe to my rss feeds.