And the demands are "non-negotiable"
(WRAL) Faisal Khan, the organizer of last Saturday's protest in Raleigh and founder of Carolina Peace Center, spoke at a press conference on Friday. He discussed the life of George Floyd, his tragic death and the demands his organization and others have in the wake of the protests, riots and violence here and across the country. He also criticized the efforts of the Raleigh Police Department and Chief Cassandra Deck-Brown.

"We are here to continue our demand list," Khan said. "They are non-negotiable. We have the intentions of making sure that those demands are met. Until then, we will continue to fight for justice.

Several people at the press conference were wearing T-shirts that listed the demands:

Step down (Raleigh Police Chief Cassandra) Deck-Brown
Oversight with Accountability
Defund the Police
Good Cops, Step Up
Invest in People
If the police are defunded, there's no need for 1,2, and 4, because there would be no police chief, no need for oversight on something that no longer exists, and no good cops stepping up, right? These are "non-negotiable", though. Good luck with that. You can watch the video at the link.
BTW, one of the "activists" involved was arrested for felony failure to return a motor vehicle. I can guess why he wants the police defunded. Anyhow, also WRAL
At a news conference Friday, organizers of Raleigh Demands Justice and other groups wore T-shirts that said what the organizers want: a stronger police oversight board, less funding for the police department were at the top of the list along with Raleigh Chief Cassandra Deck-Brown to step down.
Wait, is it less funding or defund? A large group of activist groups put out a statement through the NC ACLU, which has this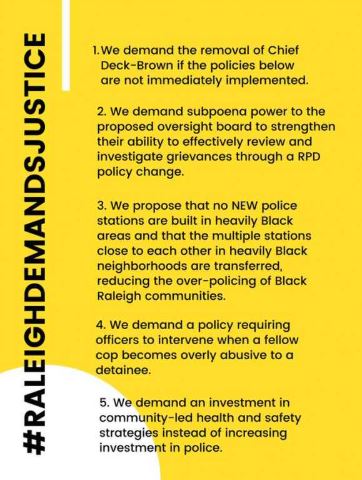 That's a whole lot different from "defund the police", is it not? As for #5, perhaps they could explain how that would work?
And then the same people will caterwaul when a community organizer comes by to give them a hug after being assaulted https://t.co/JcdPAHjmVO

— WilliamTeach2 (@WTeach2) June 6, 2020

If you liked my post, feel free to subscribe to my rss feeds.