Are these life decisions like "should I eat a Tide Pod"? Should I stick a penny in a socket and film it for Tik Tok? Should I sign a loan to go to college that is way outside my earning potential and then get a degree that is more worthless than one in Basket Weaving?
Majority of young Americans say climate change affects their major life decisions

Seventy-five percent of Gen Zers and 77 percent of millennials said climate change has affected their major life decisions, according to new research.

The survey of 2,000 Americans, split evenly by four generations, revealed 78 percent of Gen Zers aren't planning — or didn't want — to have children of their own as a result of climate change.

Seven in 10 millennials felt the same — but that's not all: In addition to their thoughts on parenthood, 50 percent of Gen Zers said their career path changed due to climate change.

And 73 percent of millennials say climate change affected where they planned to live.
This is what happens when someone is indoctrinated into a cult, with their schools and news outlets pimping it.
It hasn't only affected their decisions — it's also impacting their health, as results revealed climate change has negatively affected 59 percent of respondents' mental health (71 percent for millennials and 67 percent for Gen Z).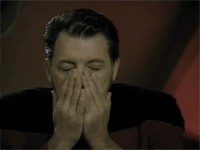 People in cults are known for their good mental health.
Commissioned by Seventh Generation and conducted by OnePoll in advance of Earth Day, the survey split respondents by generation — Generation Z, millennials, Generation X and baby boomers — and compared their thoughts and actions toward climate change.

Turns out, 44 percent believe — regardless of our actions — the Earth will become uninhabitable as a result of climate change.

Of those, the average respondent believes we have about 108 habitable years left — but that number decreased across generations; Gen Zers believe we have 95 years, while baby boomers averaged a slightly more optimistic 119.
Deranged people, Just deranged.
"We believe climate change is not only this generation's problem to solve, but that the solution will be its legacy," said Joey Bernstein, CEO of Seventh Generation. "Now more than ever, we want to underscore the importance of addressing the climate crisis and are inspired by the youth climate movement, which is committed to keeping our planet hospitable for years — and generations — to come."
They can't even solve their own problems. They expect Someone Else to pay off their loans, and demand that they be given jobs they haven't earned and can't actually do. And, most of them are failing to practice what they preach. Like with their student loans, they expect Someone Else, That Guy, Other People to solve it as well as bear the burdens of the climate cult's beliefs.
Ask these Believers what they are willing to do in their own lives and willing to pay themselves, and see how that works out.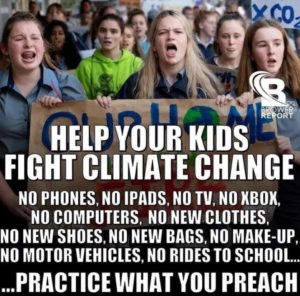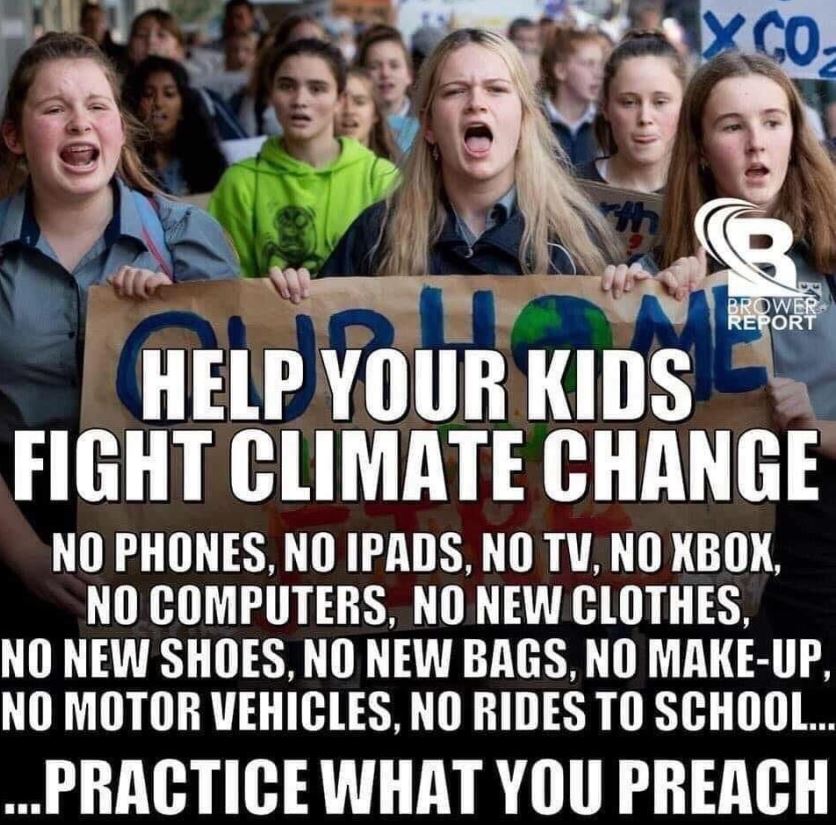 If you liked my post, feel free to subscribe to my rss feeds.