There were several important questions not asked in the poll
U.S. concern about climate change is rising, but mainly among Democrats

The share of Americans who say global climate change is a major threat to the well-being of the United States has grown from 44% in 2009 to 60% this year. But the rise in concern has largely come from Democrats. Opinions among Republicans on this issue remain largely unchanged.

About nine-in-ten Democrats (88%, including independents who lean to the party) now consider climate change a major threat to the nation, according to a Pew Research Center survey conducted March 3-29. That's up 27 percentage points from a 2009 survey. Concern about climate change has increased among both liberal Democrats and moderate or conservative Democrats (rising 20 and 27 points, respectively).

By contrast, the 6 percentage point increase among Republicans and Republican-leaning independents since 2009 is not statistically significant. In the new survey, about three-in-ten Republicans (31%) consider climate change a major threat, while 45% say it is a minor threat and 24% say it is not a threat to the nation.
What I'm not finding is a link to the actual poll and how the questions are framed. If you just say "climate change", that could mean mostly/solely man-caused, mostly/solely natural, or some mixture.
The latest survey was fielded amid growing concern in the U.S. about the outbreak of the coronavirus. Respondents who took the survey in the latter part of the month – after the March 13 declaration of a national emergency due to the virus – were about equally concerned about climate change as those interviewed earlier in the month. Around six-in-ten (63%) of those interviewed March 13 to 29 called climate change a major threat, as did 55% of those surveyed March 3 to 12. (This 8-point difference is not statistically significant at the 95% confidence level.)
In other words, this is a cult, and their opinions only get more cultish. What needs to be asked, though, are questions like
What are you personally willing to pay monthly to stop 'climate change'?
Have you given up your own fossil fueled vehicle?
Have you moved into a tiny home?
Have you given up meat altogether or at least a few days a week?
How much more are you willing to pay for your energy bill?
Have you put solar panels on your house?
How much are you willing to see your cost of living rise?
Are you willing to lose your job or work reduced our?
Are you practicing what you preach?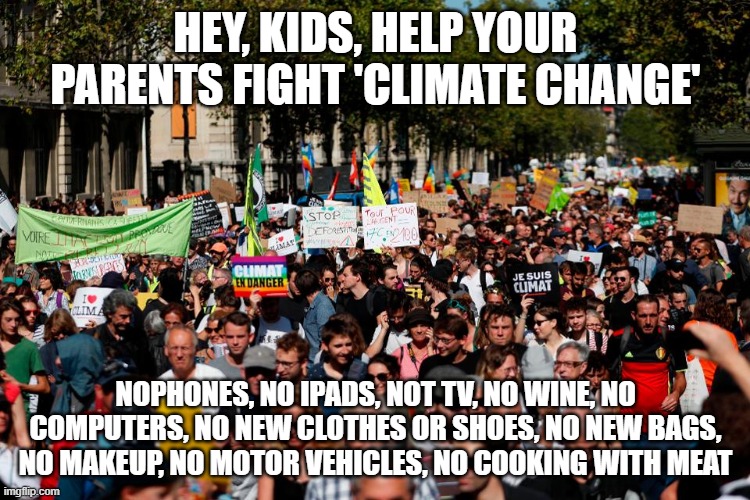 If you liked my post, feel free to subscribe to my rss feeds.